Children did not go out for "Halloween" leading to slow chocolate demand
In Ivory Coast, "LID" is creating difficulties amid weak sales
The major producers have too much inventory
West African exporters will leave beans unharvested as their prices are off by 30%
The title of this note comes from a natty ditty by "Keainbeatdown"  and seems to capture the essence of the market for cocoa right now. Why so? Well, take a good look at the 12-Montn chart that is shown below in Figure 1.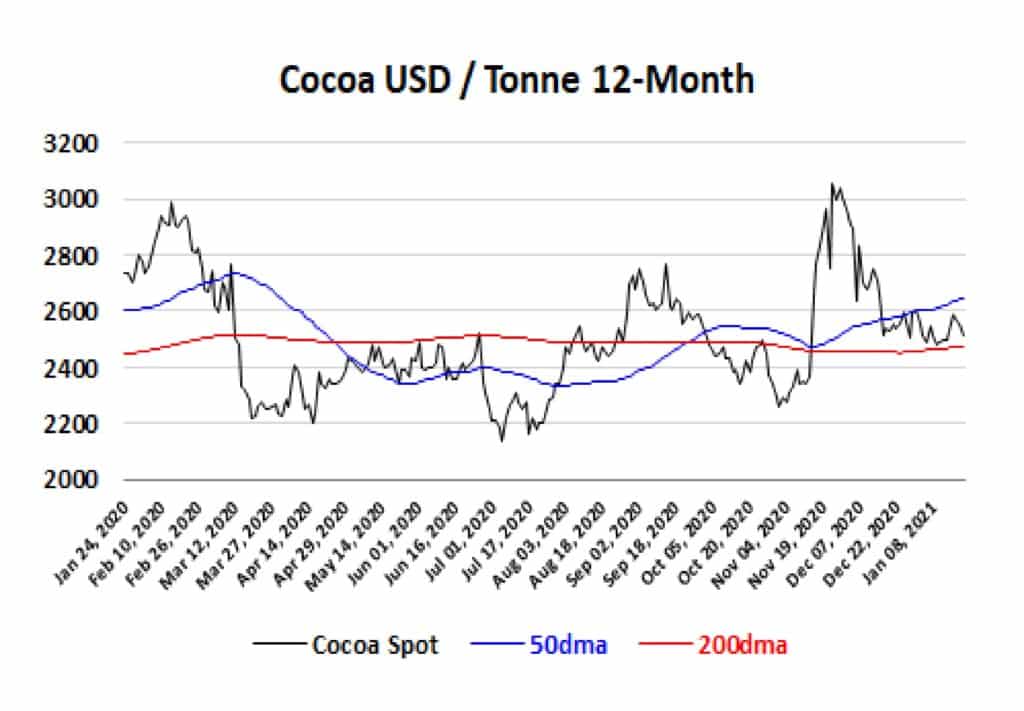 Over the past year the average price has been 2503.91 and the Standard Deviation (σ) is 202.37.
What Figure 1 shows is that at its high print of 3008 (November 30) the spot was 2.49σ from the mean, so clearly trying to break out into a new upward channel. This did not materialise as exporters said that a bumper crop while global demand falling had left the market with tonnes of unsold stock.
Thus, we saw a strong retreat from the end of November high as a true mean reversion developed to such an extent that the 50-day moving average offered no support at all and the close on Friday, January 22 at 2511.5 was just 0.0375σ above the mean; virtually nothing at all.
Scary Sales and "LID" Lethargy
The inherent weakness began as across the western world chocolate manufacturers did not generate the sales they had anticipated in October as hardly any children went out for Halloween.
As this year has begun it should be noted that in Ivory Coast, the largest global producer at 60%, the impact of the Living Income Differential (LID) premium that is paid by exporters to the government to support farmers amid unsold stock has driven exporting firms to minimise risk. The chocolate majors have also reached their targeted volumes for the main harvest and will not buy more so increasing their already high inventory.
Before the LID programme was implemented cocoa beans in Ivory Coast were purchased and in turn exported along well marked timelines. These were October-December, and January-March for the main crop harvest, and April-June, July-September, for the follower smaller mid-crop harvest.
However, exporters report that most of the cocoa purchased between October and December will now be used to meet 80% of the January-March contract obligations. Therefore, the majority of the 400,000 tonnes of cocoa beans harvested in the January-March period will remain unsold.
Now, that must place a great deal of pressure on the 200-day moving average as the amount of unsold main-crop beans in farm warehouses could reach 200,000 tonnes by the end of January causing a major headache for the Ivory Coast Coffee and Cocoa Council (CCC).
It is highly likely that nearly three quarters of the bean crop that is usually harvested between January and March will be left on the plant given a lack of buyers.
African Angst
The problem is not just limited to Ivory Coast. In Nigeria (6th largest producer), local farmers have told Reuters that the cost of inputs is increasing while cocoa prices they can secure have dropped by 30%, creating a huge reduction in expected returns.
COVID-19 is never far away from the root of so many current issues and Adeola Adegoke, national president of the Cocoa Farmers' Association of Nigeria (CFAN) said the pandemic resulted in a setback in terms of export. This was because many of the main markets are currently experiencing lockdowns and economic difficulties. This means consumer spending is focused on essentials, not small luxuries so the impact is felt through the supply chain.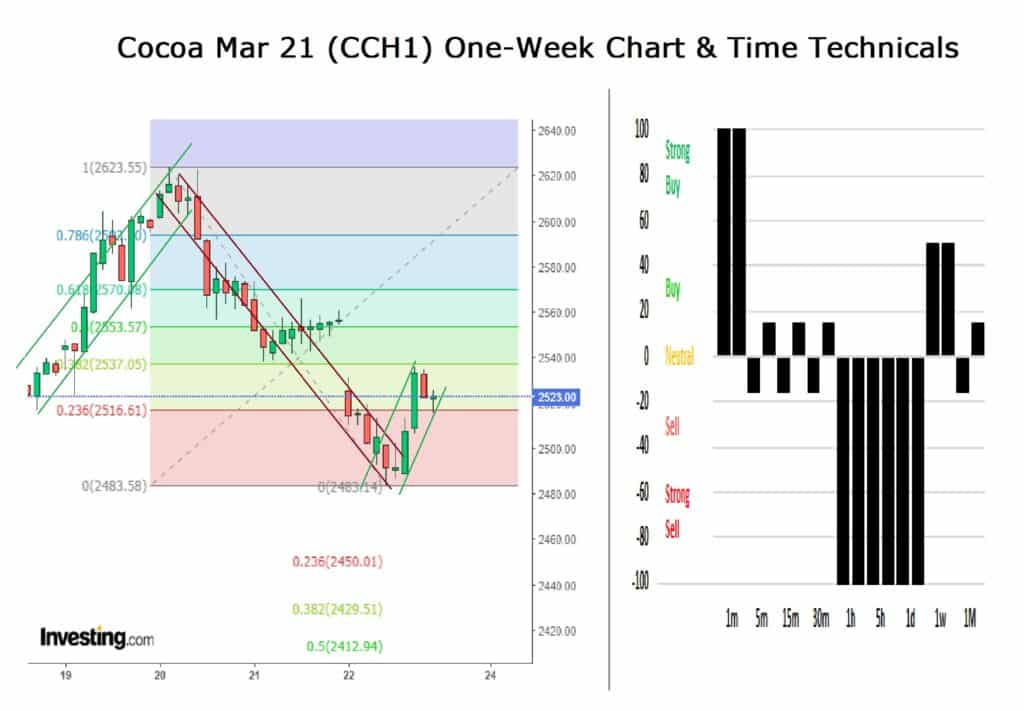 Do not be fooled by the embryonic impulsive channel that has formed on Friday. Any strength on Monday morning will be met by solid selling given the market is aware of the supply glut that confronts the cocoa market.
I would sell into strength up to 2553; I do not see the 50-day moving average being tested. As such I anticipate a deeper setback to emerge that will target 2483. Stop loss at 2600.