Bitcoin futures launch creates excitement as they surge past $18,000
There are many powerful voices for and against the concept
It marks the most dramatic financial leap into the dark since the 2008 crisis
Questions are being raised if the contract will soar high, or crash and burn?
Bitcoin, the best known of all the so-called "Crypto Currencies" had its debut as a futures contract on Sunday, December 10th at 23:00 GMT.
The Chicago Board of Exchange (CBOE) Futures Exchange in Chicago opened trading in Bitcoin futures at 07:00 Manila time, (GMT + 8) in a move that is expected to be followed a week later by a rival listing on Chicago Mercantile Exchange.
This is a watershed moment for this curious instrument and is a development that has generated enthusiasm among some and anxiety in others.
The CBOE Global Markets exchange contract (XBTc1) opened at $15,460 before soaring to a high of $18,700 – a gain of 21% and triggering two trading halts. They were last quoted at $18,100 a premium of more than$1,700 to the price on Gemini Exchange.
Who is cheering?
One of the most recognisable names among the supporters are the Winklevoss twins, (known for their run-in with Mark Zuckerberg at the early stages of Facebook). They have been dubbed the first Bitcoin billionaires.
Back in September, John McAfee who founded the software company McAfee Associates challenged JPMorgan CEO Jamie Dimon's scepticism of Bitcoin in September and recently said the unit would be worth $500,000 in three-years' time.
JP Morgan appears to be a house divided as analyst Nikolaos Panigirzoglou suggested Bitcoin could soon join gold as a reliable, long-term way to store wealth and develop into a traditional asset class.
Who is warning?
The well-known financial commentator Jim Cramer has warned that prices could tumble once the new trading venues open the door to "…short sellers…" who bet on downward moves in assets.
Sir Jon Cunliffe, Deputy Governor of the Bank of England, warned that no central bank stood behind bitcoin and in his view "…investors need to do their homework…" i.e. take care!
The President of the New York Federal Reserve, William Dudley, echoed this view.
"…I would be pretty cautionary about it. I think that it's not a stable store of value,..I would be, at this point, pretty sceptical of Bitcoin. …"
So far, it seems no professional investor has shown any willingness to trade against the Bitcoin phenomena, despite the warnings of a bubble that will burst soon.
Are futures the future?
The launch of the two contracts have been made possible after the key US regulator, the Commodities and Futures Trading Commission, (CFTC)gave the green light to the exchanges on December 1 to go ahead. However, the approval was tempered as CFTC did pointedly issue a stark warning "…of the potentially high level of volatility and risk in trading these contracts…."
Anticipation of the first mainstream listings for the digital currency has been a catalyst for a sharp price increase in recent weeks. Bitcoin began 2017 at around $1,000, surged past $10,000 for the first-time last month and soared as high as $17,148.40 on Thursday before retreating somewhat. As one can see below the price of BTCUSD has bounced back as the new futures contract soared. From where the price has been the next upside target on a Fibonacci extension is in the region of 24,400.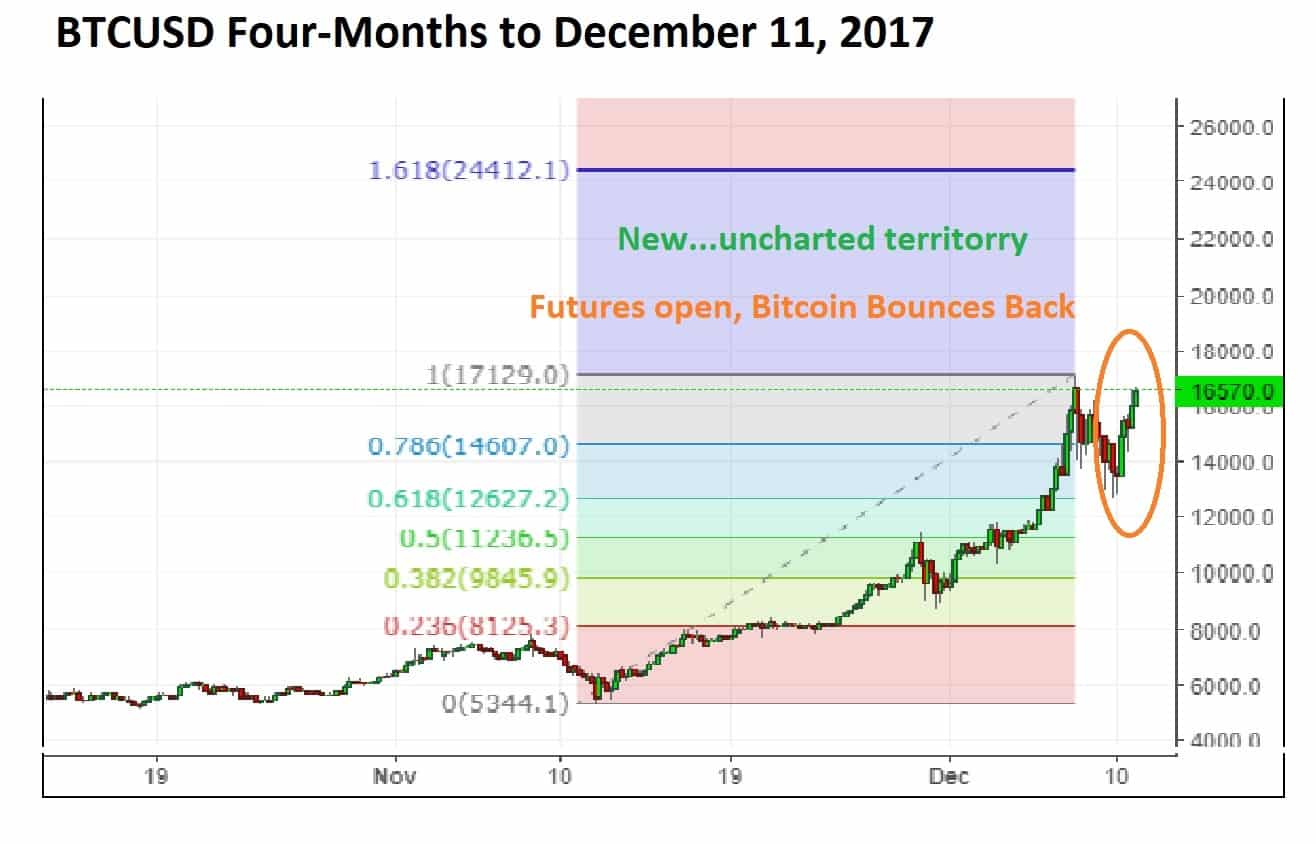 Source: www.investing.com, Spotlight Ideas
The next question is whether the offering by mainstream exchanges of Bitcoin futures will see further rises? It is unclear and so no-wonder many key figures in and around markets are taking a cautious approach to Bitcoin. After-all, given there is no central bank backing it has no legal exchange rate. It may well be that would be sellers have waited to let the euphoria of the contracts first day be absorbed before any major short selling statement is made.
Differing industry opinions
Indeed, there is a division of opinion within the futures industry as the Futures Industry Association, openly criticised the CFTC's move in a letter to the regulator, saying contracts are being rushed through without properly weighing the risks.
"…A more thorough and considered process would have allowed for a robust public discussion among clearing member firms, exchanges and clearing houses…"
The investment banking community are equally divided as leading names such as JPMorgan Chase, Bank of America Merrill Lynch, Citigroup, Barclays, Morgan Stanley and Societe Generale are still studying Bitcoin and not serving as financial intermediaries.
There are others who have jumped in such as Goldman Sachs and ABN Amro who will act as intermediaries for the trades.
The implication is that much of the clearing space is to be occupied by smaller institutions that are in the main demanding larger than usual margin requirements i.e. funds set aside as collateral in case of losses. The need for security and protection form damaging exposure surely implies the Bitcoin future is far from optimum efficiency. Still, like any great technological or medical leap ahead it should get better over time…if it doesn't blow up first.
Day one; no disaster
The introduction of the futures contract has allowed a clean way to short Bitcoin, however, being able to short a bubble does not mean that the bubble will burst immediately.
For example, the Bitcoin craze has often been compared to "Tulip Mania" in the 1600's. In that market cash settled futures contracts on tulip bulbs began in Holland in 1636 and yet the tulip bubble did not burst until February 1637.
What one must remember is that bubbles are by irrational. Predicting when a bubble will burst cannot use rational analysis as one could get badly burned whether playing on the long or short side of the market.
It seems that there was never a more opportune time to say, "Caveat Emptor"…"Buyer Beware".
Read more macroeconomic analysis