The upgraded acronym FAANG is a development of the original acronym, FANG, which was proposed by Jim Cramer on CNBC back in 2013.
FAANG stands for:
Facebook (FB)
Amazon (AMZN)
Apple (AAPL)
Netflix (NFLX) and
Alphabet (GOOG) (parent company of Google)
These are five of the most popular and strongly performing technology shares in the US stock market, listed on the NASDAQ. The original FANG acronym did not include Apple.
The large market value of these five technology companies is not only due to their strength as individual companies, dominant in their respective fields, but also from the fact that retail investors have piled into these stocks, whilst fund managers are also strong advocates and buyers. These five stocks had a combined market capitalisation of $6.1 trillion as of 3rd May 2021.
Funds such as Soros Fund Management and Warren Buffet's Berkshire Hathaway have invested into FAANG stocks, adding them to their portfolios as growth stocks. In addition, their accelerating growth in the 21st Century has seen many global fund managers increase the holding of FAANG stocks in their portfolios.
Furthermore, the term FAANG (or FANG) has entered common terminology and is often used denote the whole consumer discretionary sector that consists American technology and tech-enabled growth companies.
Sometimes, the acronym FAAMG or GAFAM is used to denote the same set of stocks, but rather than including Netflix, to include Microsoft.
Below we see the performance of these five stocks since February 2013, when Jim Cramer coined the acronym, up until 3rd May 2021.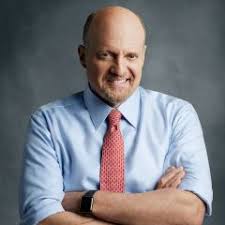 Company
Stock Price Increase

 

Feb 2013-May 2021

Facebook (FB)
+1060%
Amazon (AMZN)
+1200%
Apple (AAPL)
+752%
Netflix (NFLX)
+2100%
Alphabet (GOOG)
+568%
Let's looks a little more at these five stocks
The FAANG Stocks
Facebook (FB)
Facebook is arguably the most successful social media company of the 21st Century and a huge revenue earner in the tech world. The Facebook brand, the company and the CEO, Mark Zuckerberg have had their ups and downs over the years, but since their May 2012 Initial Public Offering (IPO), Facebook share value has been steadily rising. Facebook generates most of its revenues from targeted advertising.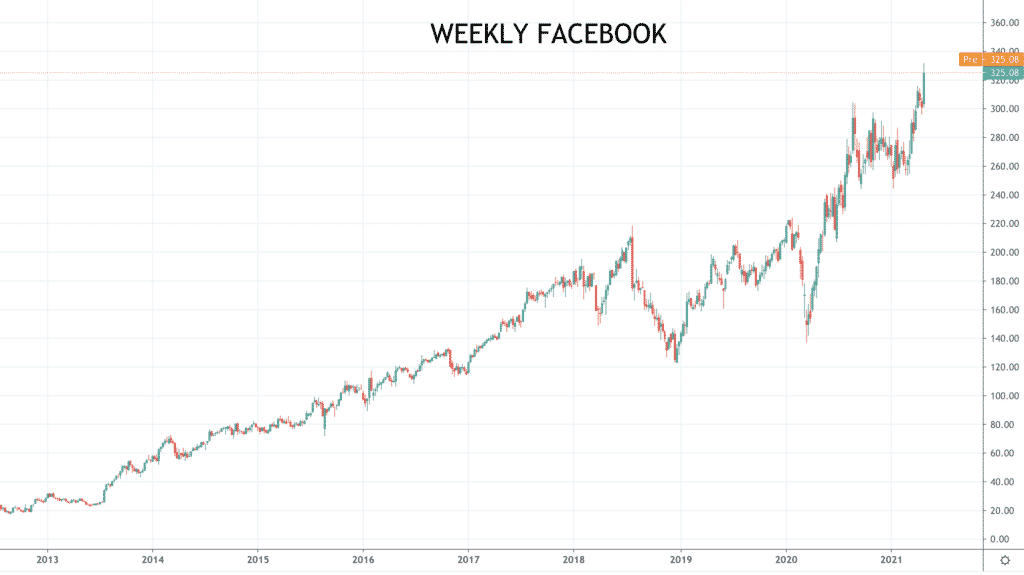 Amazon (AMZN)
Amazon is the planet's biggest online retailer and possesses every ingredient of the cocktail of success. In Jeff Bezos, Amazon has a superstar CEO, plus a lasting competitive advantage in the online retail world. In addition, it even offers a range of innovative products, which keeps it at the very cutting edge of technology.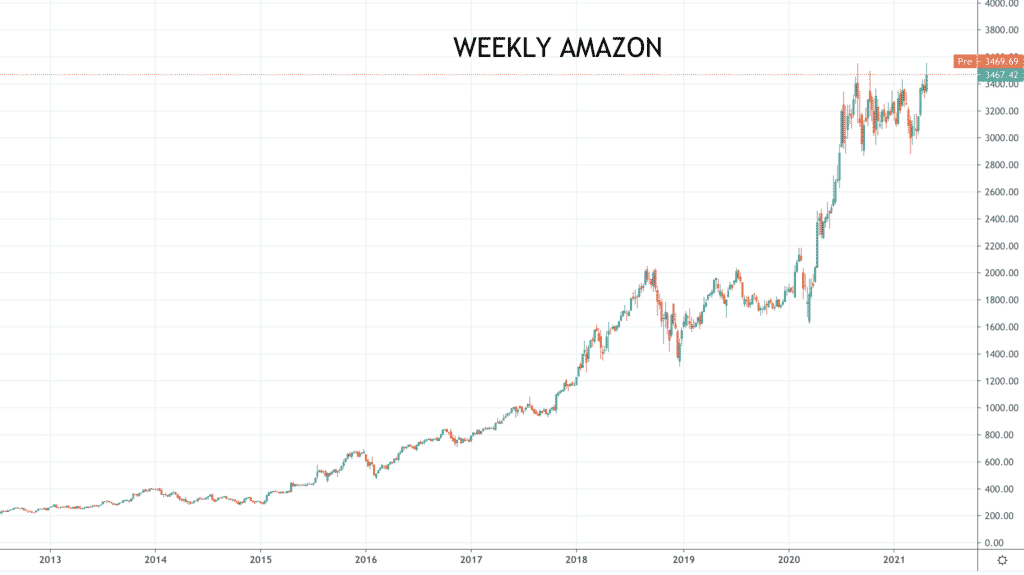 Apple (AAPL)
Who on the planet has not heard of Apple? Apple is a major US technology company, based in Cupertino, California, producing an extensive range of consumer electronic goods, plus technology and media services. The products include; iPhones, iPads, Mac computers, the Apple Watch, digital media players and home speaker systems. On top of this are software products, such as the iOS operating system and a foray more recently into the world of media.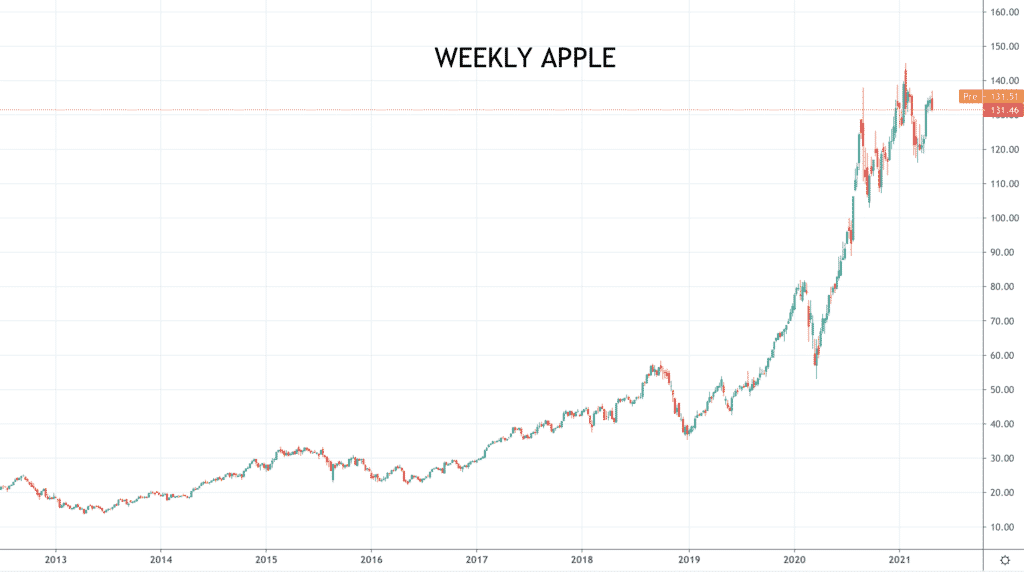 Netflix (NFLX)
Having started out in 1997, Netflix is by no means a new player on the block. Back then, it was a simply a delivery service focused on movies and TV shows. By every measure, Netflix stock has been a major winner since its May 2002 IPO, which launched at $15. It has rewarded investors lavishly with the record stock price high up at $423.21 (as of June 2019).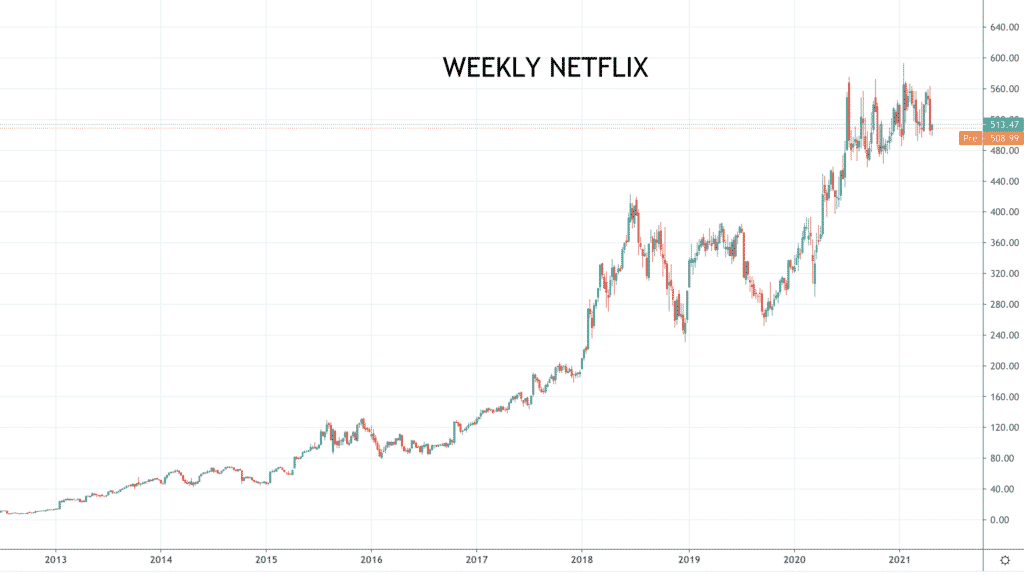 Alphabet (GOOG) (parent company of Google)
Alphabet is the parent company of Google, which today is far more than just a search engine. Alphabet is involved in extensive technology initiatives, which include self-driving vehicles and social media. Revenues and profitability are often a direct function of innovation and Alphabet excel at this. There is perhaps no company out there as motivated by innovation as Alphabet.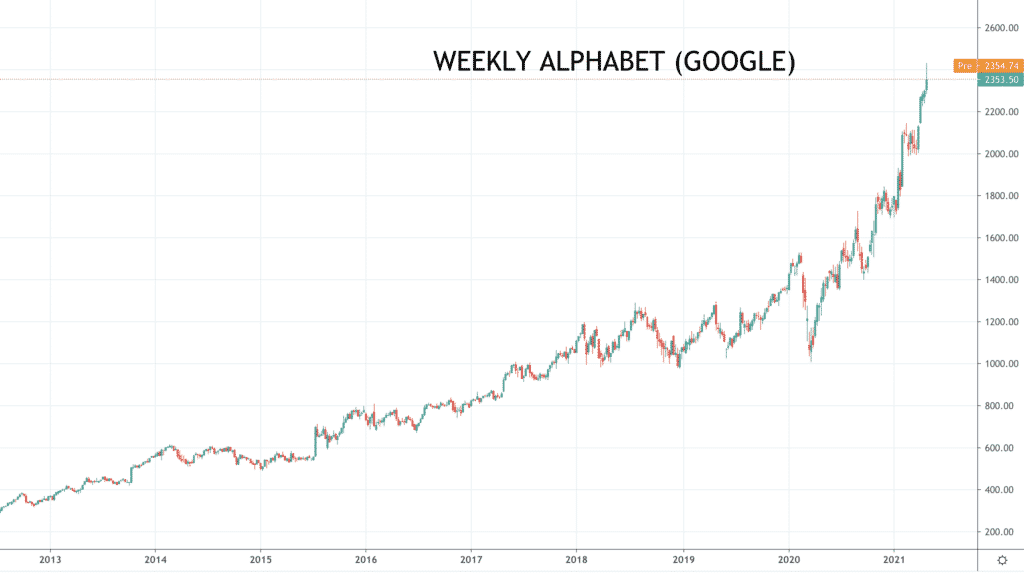 Microsoft (MSFT)
Microsoft is one of the largest technology companies in the world. It is listed on the Nasdaq exchange and sell computer software (everybody know Windows), computing devices cloud services and other produces. The company was founded by Bill Gates and Paul Allen in New Mexico in 1975, to produce the operating system for IBM's personal computers. Microsoft went public on 1986.