Iran appears to be getting off a U.S. sanctions hook
As the Russians, Saudi's and U.S. ramp up oil production, the market has excess supply
The technical sentiment for oil has spun around since my last note on WTI
Bearish sentiment prevails and will take prices lower
The market for crude oil has enjoyed a bull-run that has lasted almost two-years. However, it is starting to encounter a serious test as the level of supply on the market and mounting concern over global economic prospects hits demand.
The price of West Texas Intermediate (WTI) peaked at $76.84 a barrel on October 3rd. Since then there has just been one-way traffic as sellers have dominated the market as prices rotated lower in an orderly corrective. Such pressure overcame any aspiration that renewed U.S. sanctions on Iran would curtail supply and help sustain the price appreciation.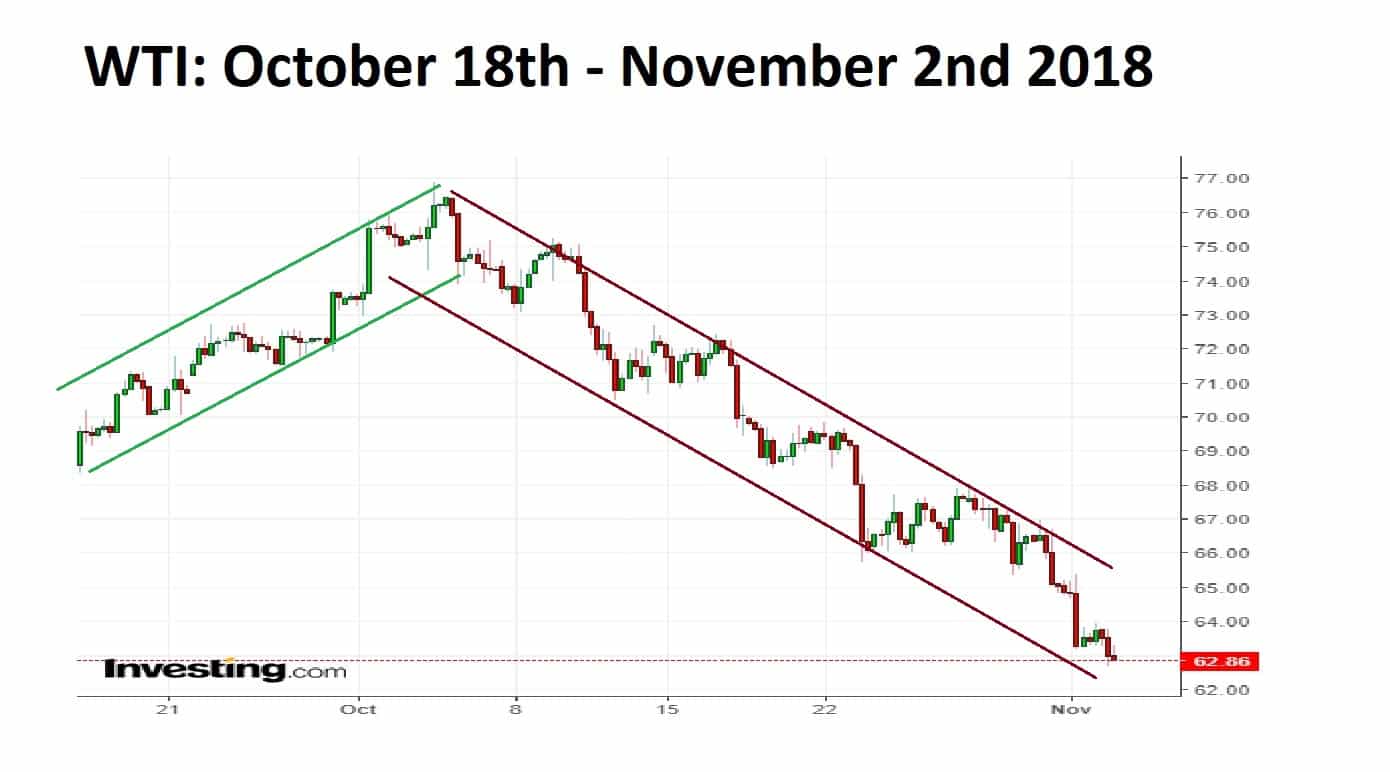 Source: www.tradingeconomics.com, Spotlight Ideas
The prospect of a supply restriction was swept away during the past week as the three largest producers; Russia, Saudi Arabia and the U.S. all indicated that they were pumping at record or near-record levels. In addition, the U.S, authorities announced they were to permit waivers that could allow buyers to keep importing Iranian oil.
The U.S. government said on Friday, November 2nd it will temporarily allow several countries including South Korea and Turkey to keep importing Iranian oil when U.S. sanctions come back into force on Monday, sparing them for now from the threat of U.S. economic penalties. So much for rock hard sanctions.
This news plus recent tepid economic reports from China, e.g. China's official manufacturing Purchasing Managers' Index (PMI) for October was 50.2; lower than the 50.6 analysts expected in a Reuters poll and down from 50.8 in September, have raised questions.
The most significant one being "Will the lack of economic activity curtail demand so exacerbating the worries about oversupply?"
As the chart above reveals U.S. WTI futures have succumbed to selling pressure and have now hit lows not seen since April. The result is that the U.S. crude futures curve now suggests investors think markets could be awash in oil over the coming months.
Looking at the second and longer time frame chart below, one can understand why several commentators believe the selloff has come too quickly. They contend that the major OPEC producers will not be able to add additional supply were it to be required. It would appear they are mindful of the fact that production in Iran, Venezuela and Libya is far from secure. That could easily be removed the apparent excess supply that prevails at the moment.
The chart that follows suggest that unless ground above $66 is regained quickly then the critical level now in play is at the base of the channel at the $60 level. One must feel that at this stage the path of least resistance is to trade lower.
Source: www.tradingeconomics.com, Spotlight Ideas
I see further selling pressure as the week opens with downside targets set at $59.26 and $56.92. A stop-loss should be set at $66.04 as that would suggest a new upside swell was starting to form.