The year 2020 was a major crisis for oil prices as the COVID-19 pandemic destroyed demand with economies shutting down. According to IATA, passenger demand for air travel fell in February by 80% in Europe and USA and by 67% in Asia Pacific region. Prices collapsed in March to an unprecedented historic low. Oil practically became worthless for a short period of time. As OPEC+ intervened by cutting production and economies slowly reopening in late spring, price bounced to a weekly 50SMA just above $40, using it as resistance level. Summer prices have been quite stable in the light of some normality returning in the world during warmer months. Further spike in oil prices came only in November of 2020 as vaccine expectations propped up the prices as investors were waiting for demand to return with pandemic being curbed by the magic cure, so far that did not happen… Year ended at $48 with an outlook of a better coming year and hopes of Biden's presidency improving relationships between US and OPEC+ countries. Earlier this week Saudi Arabia announced a surprise cut in production, willing to sacrifice some market share to ensure higher prices.
Technical analysis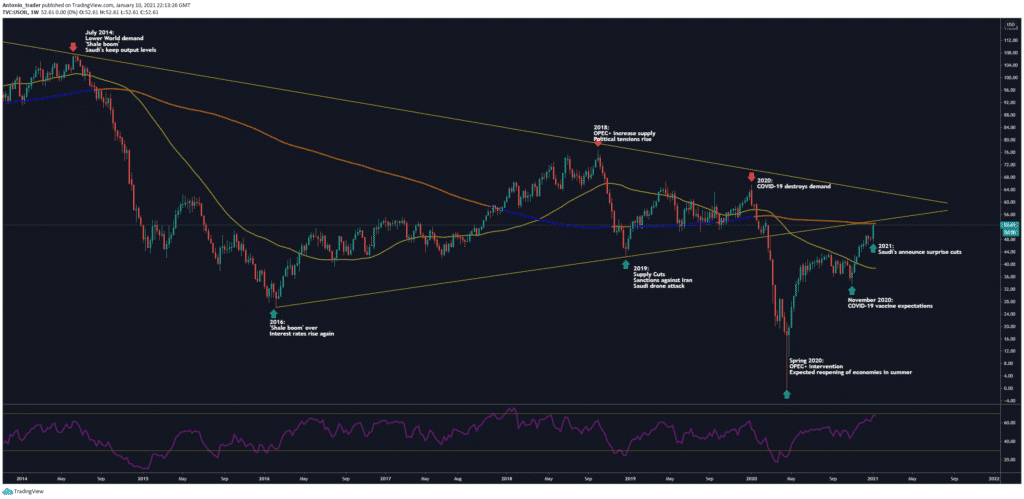 On the technical level, WTI weekly chart shows the price is now at a critical level: 200SMA and a retest of a broken uptrend line. RSI is now at overbought levels. Potential consolidation here before the next spike. Biden's inauguration is coming this month and his first steps as president will have a huge impact on the future of oil. As things stand now, WTI has a higher probability to break to the upside with OPEC+ committed to increase prices. Alternatively, if Biden causes frictions with China or OPEC+, we could see a pullback from the trend line as price adjusts to USA's foreign policy under the new administration.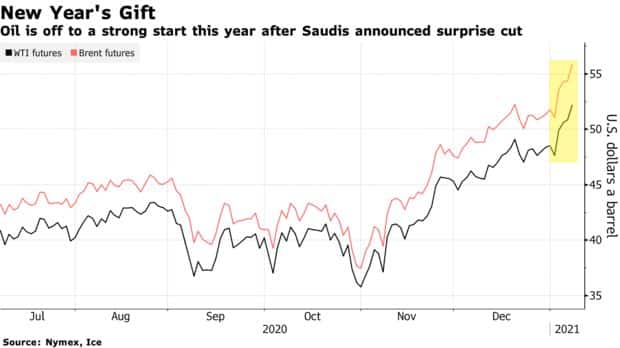 Oil futures also seeing a massive boost from Saudi Arabia cutting production. Citigroup states that some $9 billion in oil contracts could potentially be bought since this Friday. This improves the chances for oil to have a strong start in the first quarter of 2021, with Biden's foreign policy with OPEC+ being the only unknown factor. Cold winter in Europe and China, with higher energy prices, also expected to aid oil prices.
Future forecasts
Overall, oil is expected to make a comeback this year, despite the pandemic still in the air. Vaccine rollouts across the world bring hope that the demand levels will start returning to normal around spring and summer. President Biden's first acts will determine much of the foreign relations in the coming months. Considering the position of the USA after Trump's presidency, it is more likely that he will return to more traditional USA politics.
Energy Information Administration (EIA) predicts a steady rise in oil prices over the coming decade despite the current pandemic. By 2025, Brent crude is expected to reach $79 level and then $98 by 2030. An astonishing forecast by EIA suggests oil prices to reach $200 for Brent in 2050 due to cuts in production and competing energy sources. As a comparison, 2008 saw a record price of $133 before dropping to $40 in December that year and climbing back to $123 in 2011. Expectation is that after a historic fall in oil prices in 2020, we shall see an even bigger spike in the coming decades. While oil at $200 seems ridiculous for the economies to sustain, as those prices would be devastating for the average consumer, a strong competition in the energy industry and potential comeback of the developed economies after the pandemic would create a surge in oil prices.