Crude has spiked 19% this year, to prices unseen since late 2014
Iran produced 5.1% percent of the world's total crude oil
Focus in the oil market will remain on geopolitical tension in the Middle East
After President Trump withdrew the U.S. from the Iranian nuclear agreement
Prices are set to advance over the summer into Q3
There has been a long period for investors to become accustomed to low oil prices, below $70/Barrel since November 2011. So, one has to ask how the market participants will react to a surge of volatility following President Trump's decision to reimpose sanctions on Iran.
Trump did not offer any new justification for how Iran was violating the nuclear accord, the IAEA confirmed on May 9th that Iran is in compliance with its nuclear commitments – and offered no Plan B or even a coherent strategy on what comes next.
Gap in the market
Proved oil reserves in Iran, according to its government, rank fourth largest in the world at approximately 150 billion barrels. Taking away Iranian oil, following production cuts by Venezuela, Saudi Arabia and Russia the implication is that the margin for error in the oil market will become extremely sensitised.
During 2015 and 2016, there was so much excess supply that crude prices crashed. That seems like a lifetime ago and given that the buffer of supply has vanished the market is extra-sensitive to geopolitical dangers and other shocks.
See more current financial markets analysis
Other factors
Other drivers are likely to exert an influence e.g. the resurgent US dollar and a surge in production from Texas shale fields. This past week there has been a rush of analysts warning of an eventual return to $100/Barrel oil. That's a significant swing considering that crude crashed to just $26/Barrel barely two years ago.
Of course, it is not a one-way street and there are others are sticking by predictions that oil prices will come back to earth soon. That said, there is nothing in the price chart, (see below) to imply that oil is facing any immediate technical headwinds. However, the technical sentiment does suggest that as the new week begins there will be selling; this will evaporate by mid-week and give way to renewed buying.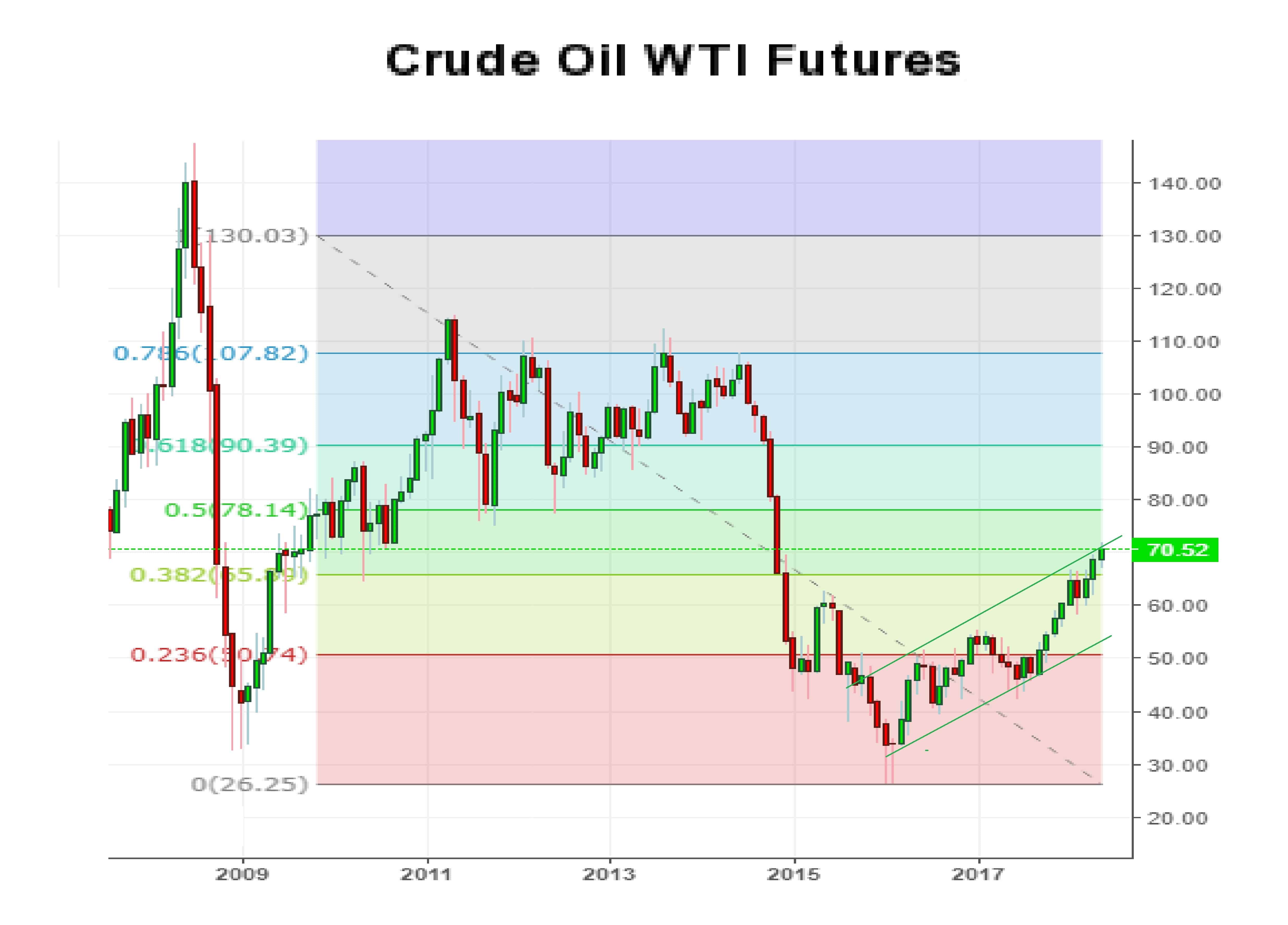 Source: www.investing.com, Spotlight Ideas
Oil price volatility will continue to increase as oil markets are always sensitive to conflicts that threaten supply in the Middle East which is still the hub of global oil activity. Analysts worry that by exiting the Iran nuclear deal, Trump has paved the way for even more tension in an already unstable region.
Trump's policy on Iran has unsettled the market and the regional conflicts…e.g. Houthi rebels fired missiles into Saudi Arabia, Israel has accused Iran of a missile attack on the Golan Heights, and Israel has struck Iranian targets in Syria, all raise the temperature in the region.
Beyond the Middle East, production from crisis-seized Venezuela has dropped by 600,000 barrels per day. US Vice President Mike Pence called on Venezuela this week to suspend its "sham" presidential election, set for May 20th.
Oil traders are trying to figure out precisely how many Iranian barrels will be sidelined by the sanctions. No one knows for sure, however sensible estimates are that between 200,000 and 1 Million Barrels per day will be cut off.
Balancing factors
Saudi Arabia signalled it could be willing to shift gears and ramp up production to compensate for the loss of crude from Iran.
However, Goldman Sachs has pointed out that there's no guarantee Saudi Arabia would completely offset the declines out of Iran as do not forget the Saudi's wouldn't mind higher prices to jack up the value of Saudi Aramco, the state-owned oil operator it's planning to take public.
U.S. Oil
This week the Energy Information Administration again raised its prediction for U.S. oil output for the next two-years.
However, one has to note that there are limits to just how fast the shale revolution can move. The Permian Basin, the largest oilfield in the U.S. is pumping so much oil that the pipelines can't handle it all.
Oil's rise could eventually be stunted by the recent strength in the US dollar, which tends to hurt foreign demand for dollar-priced commodities like crude. However, the crude price has stayed hot recently despite the Greenbacks's huge comeback and it is not too much to see some analysts wondering if the recent Dollar resurgence has run its course?