Iran will soon face more U.S. sanctions
President Trump wants to force Iran to renegotiate its nuclear deal
The technical sentiment for oil is as good as the week wears on
There is a good chance of new prices hitting the $90 level…and beyond
In the week ahead oil traders will stay firmly focused on any and all potential disruptions to global crude supplies. The reason for he intensity of their gaze is the rapidly approaching imposition U.S. sanctions on Iran. These are expected to lead to a tighter market.
The sanctions, which begin from the start of November are designed to smother all Iranian oil exports although Iran will not easily abandon the lucrative oil export business that generates the much-needed government revenue.
As the sanction deadline approaches there are growing signs of the country reverting to an old ploy of selling in secret by sending out "Ghost Ships". These tankers turn off their transponders and so sail the oceans undetected by maritime enforcement agencies.
Iran is the third-biggest producer in the Opec bloc and it has been supplying approximately 2.5 million barrels per day (bpd) of crude and condensate to markets this year, equivalent to around 2.5% of global consumption. Many analysts have suggested that they expect Iranian exports to drop by around 1 million bpd as the sanctions start to bite.
The Trump administration is determined to bring Iran's oil exports to zero to squeeze the regime to such an extent that it will have no option than to put pressure on Tehran to renegotiate a nuclear deal.
Many of Iran's former active customers are wary of the strident tone of the U.S. and to avoid antagonising the American President South Korea and France are among countries that have halted their purchases completely. China and India who are respectively the biggest buyers of Iranian crude have dropped their visible orders. However, that does not mean they would not receive into their orts the Iranian Ghost Ships.
November West Texas Intermediate (WTI) crude, the U.S. benchmark closed lower by 4 cents or 0.05% to settle at $74.294 a barrel on the New York Mercantile Exchange. It had stretched higher to reach a nearly four-year high of $76.90 on Wednesday.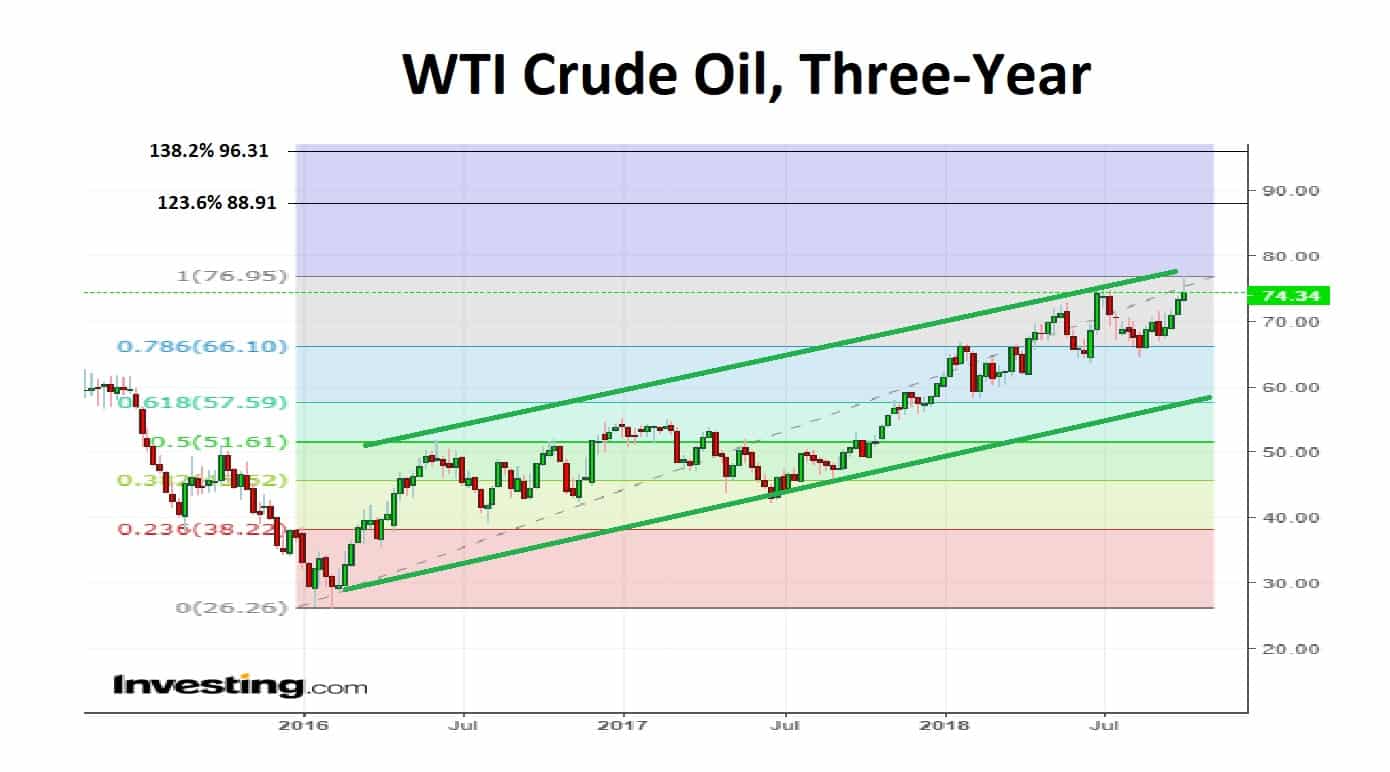 Source: www.tradingeconomics.com, Spotlight Ideas
The three-year chart shown above illustrates the two-year duration of the impulsive wave that WTI has enjoyed. The closing price on Friday is likely to endure a little more selling pressure in the first hours when the market reopens, however, this will yield to renewed upside.
Fresh weekly data on U.S. commercial crude inventories will be released a day later than usual due to Monday's Columbus Day holiday, will also capture the market's attention. The market is primed for a push higher with an extension over the current three-year range at 88.91 and then 96.31.
Both are real possibilities if the Ghost Ships are blocked in their ports and the Saudi's do not fully ramp up production to cover the Iranian shortfall.
Read all macroeconomic analysis