Oil market is focused on supply
OPEC and OPEC + have controlled the high level of production
Oil demand is expected to grow at a moderate pace in 2019
Technical sentiment is positive in the short-term
The oil trading community is going to remain focused on global crude supplies amid signals that the surprisingly robust OPEC led production cuts have led to a tightening in an oversupplied market.
OPEC, or as the current language describes it, "OPEC +" (as it includes non-affiliated producers e.g. Russia), agreed toward the end of last year to reduce output by 1.2 million barrels per day (bpd) to overcome an excess supply that had persisted throughout 2018 and in effect prop up prices.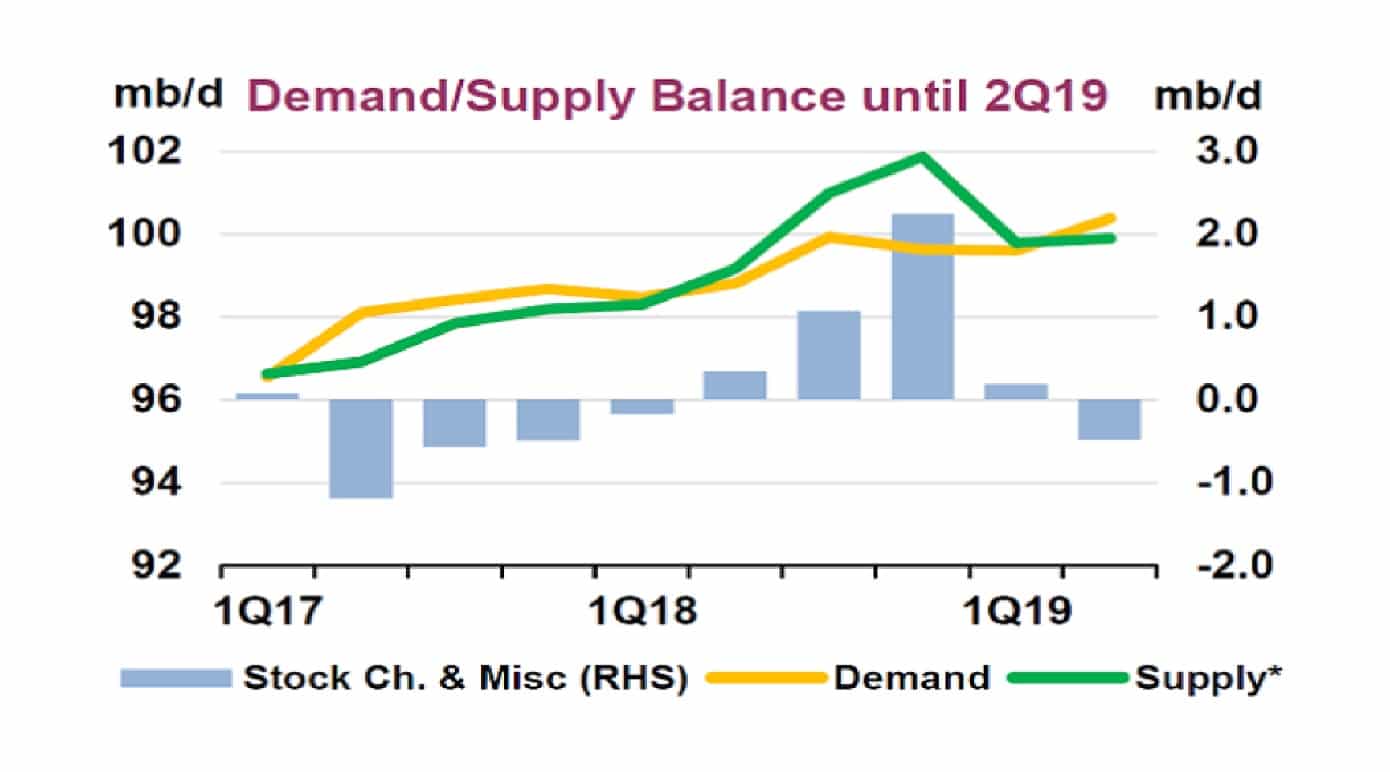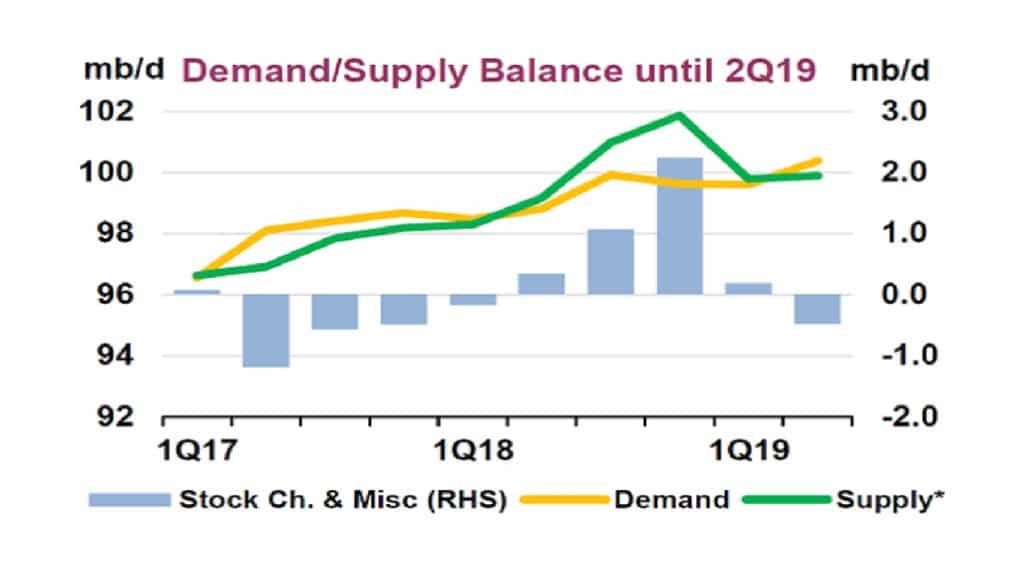 Source: International Energy Agency
Speaking at the OPEC, non-OPEC Joint Ministerial Monitoring Committee in Baku, Azerbaijan Saudi Arabia's Energy Minister, Khalid al-Falih, said he was optimistic about continued commitment to the oil supply cut agreement between OPEC and non-OPEC members.
"…I am obviously optimistic that implementation of our OPEC+ agreement will improve, it's already strong by historical standards, …"
On Thursday, March 14, OPEC cut the forecast of global demand for its oil this year as rivals boost production, building a case for extending supply curbs beyond June to stop any new glut. OPEC+ ministers will next meet on April 17-18 where they will decide the next phase of their production policy.
Ahead of that meeting the market will be glued to the latest data on U.S. commercial crude inventories and production activity.
The Energy Information Administration (EIA) reported that U.S. crude supplies unexpectedly fell by 3.9 million barrels for the week ended March 8 and it added that total domestic crude production inched down from record territory, down 100,000 barrels to 12 million barrels a day.
Oil futures settled lower on Friday, as WTI prices pulled back from a four-month high. Ongoing worries about the economy weighed on the sentiment. WTI eased back 9 cents to settle at $58.52 a barrel by close of trade. It earlier went as high as $58.95, the best price print since November 13, 2018. Over the week WTI rose 4.3%, its best weekly gain in about a month.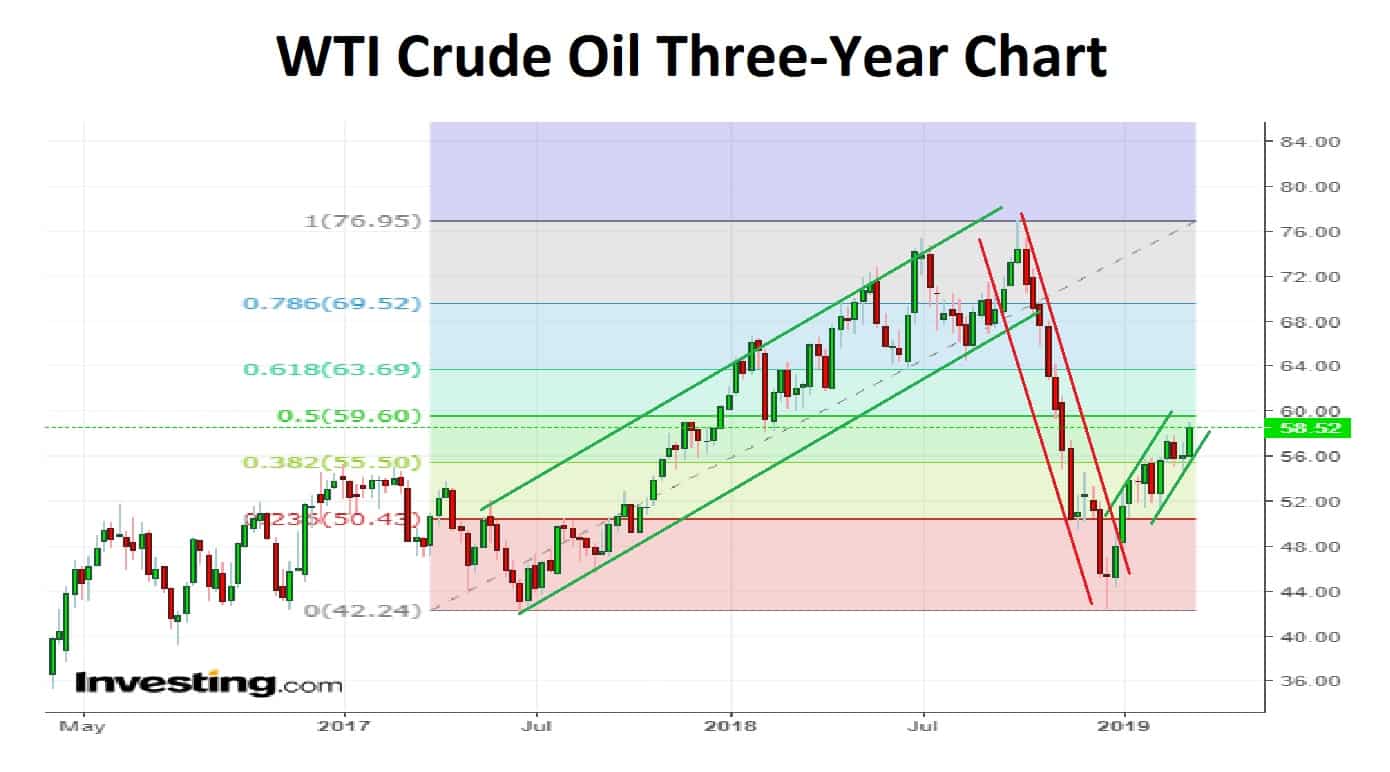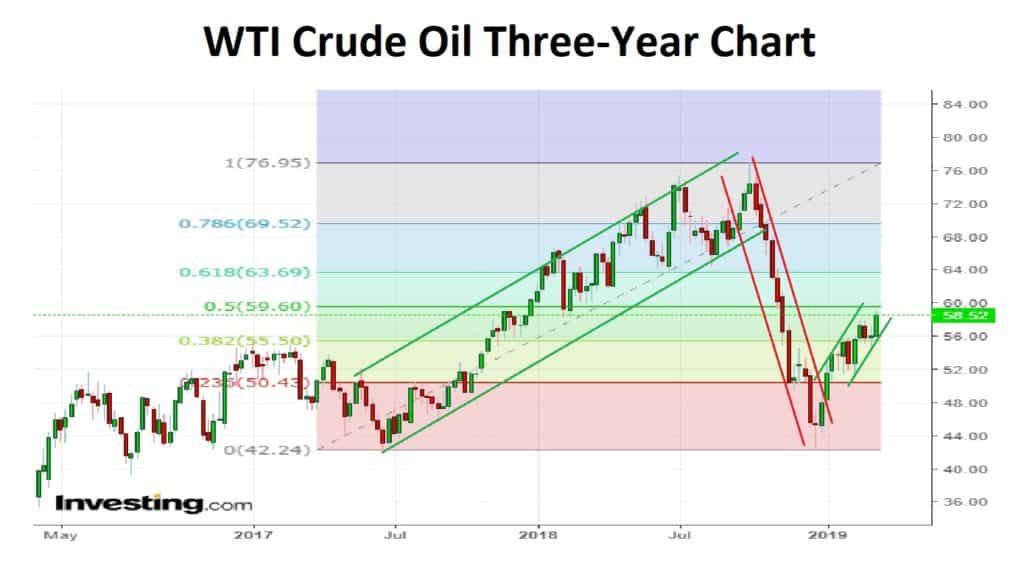 Source: www.tradingeconomics.com, Spotlight Ideas
Two weeks ago, I wrote about WTI and my first short at 55.89 on March 4 was closed out on the same day at 57.00…causing a loss of 1.95%. However, I was convinced there would be a short-term decline and so on March 5 I opened a new short at 57.15. This was covered at 55.37 on March 11 for a gain of 3.21%.
This time I think prices can push a little higher, and I would buy at tomorrows opening.
Summary:
Buy at opening, in the region of USD 58.90/barrel
Target 1 59.55 Target 2 61.70
Stop at 56.00