Macroeconomic/ geopolitical developments
The big event of the past week was US Federal Open Market Committee (FOMC) interest rate decision and statement on Wednesday.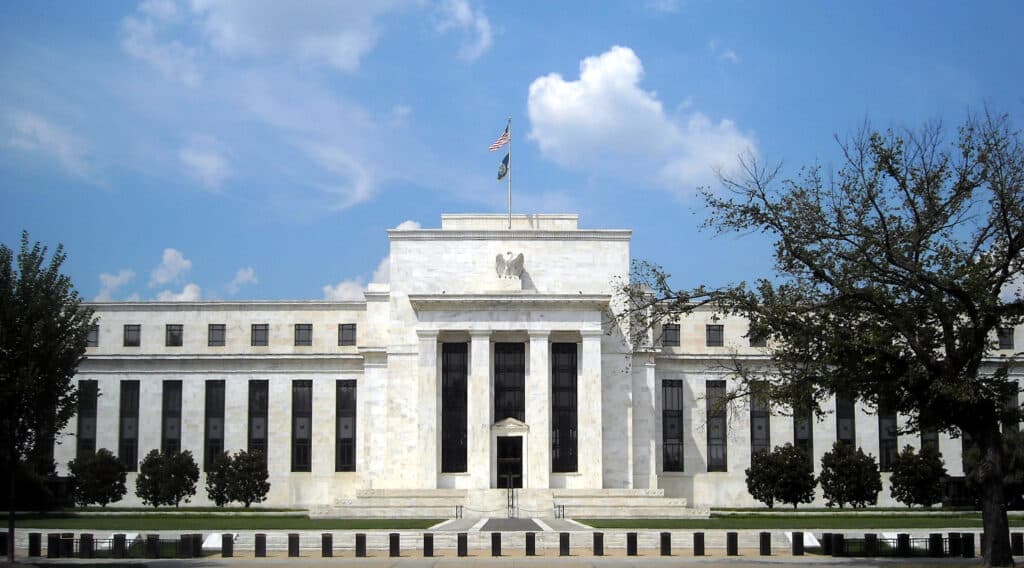 The FOMC dot plot chart at least two quarter-point rate increases in 2023.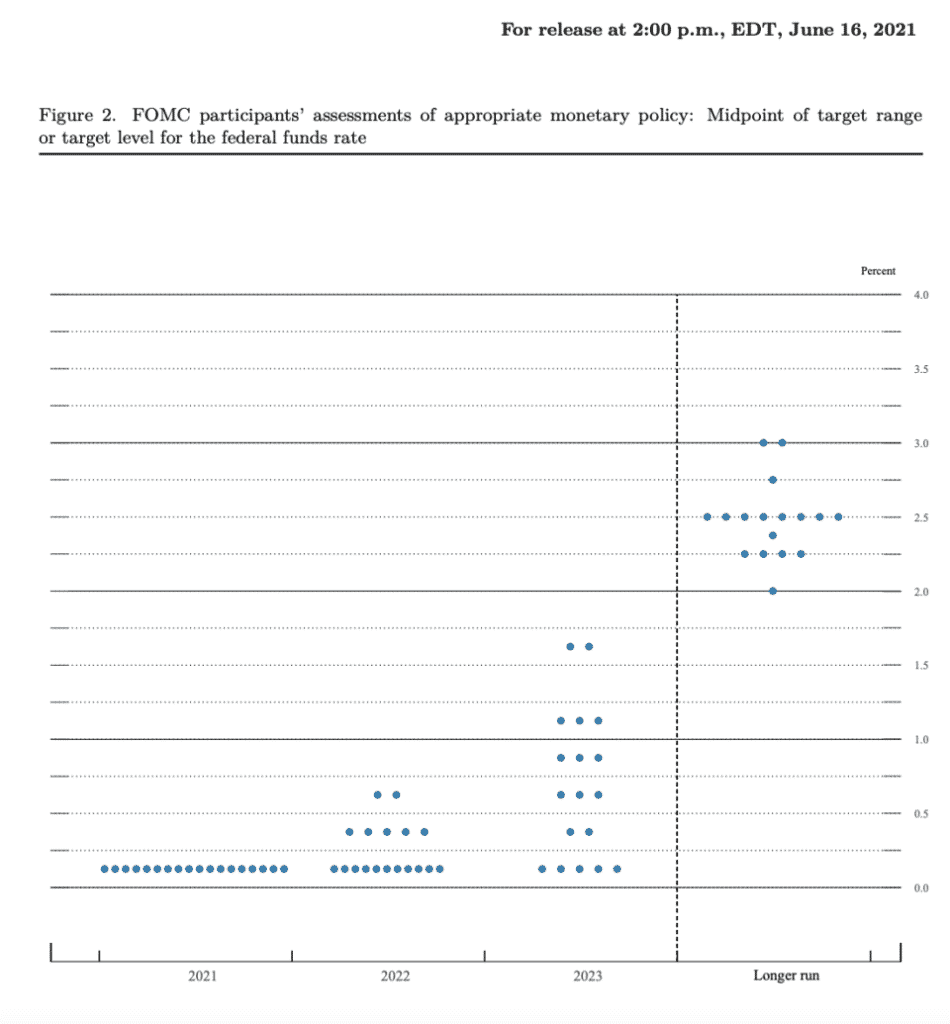 This was a more hawkish tone than the US and global financial markets had anticipated, causing significant price action across asset classes.
The main beneficiary was a much stronger US Dollar in anticipation of earlier than expected, higher interest rates in the United States.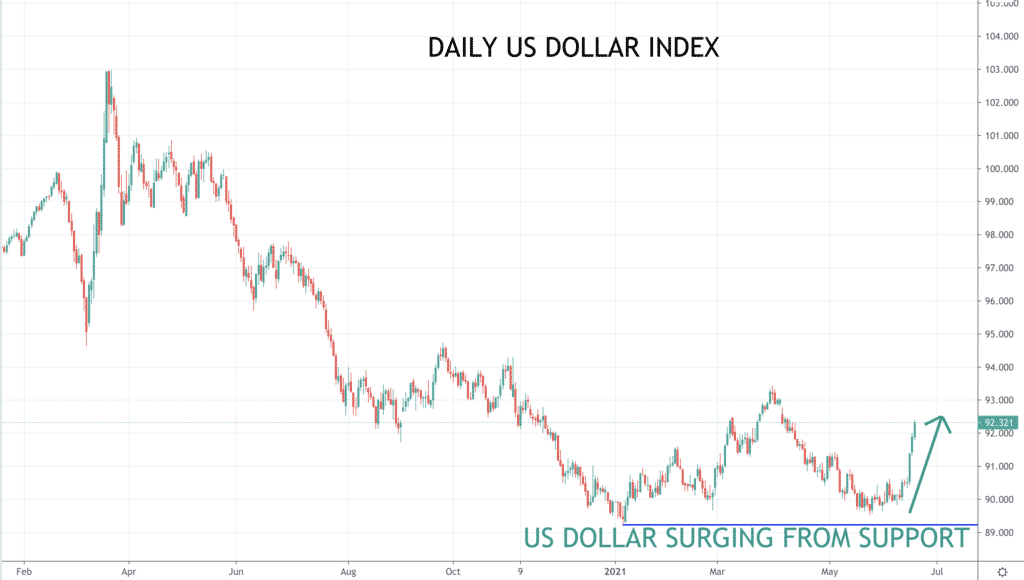 Bond markets, interestingly ended the week at lower yields, having initially moved to higher yields after the Fed.
Global stock averages were choppy, strong ahead of the FOMC posting new record/ cycle highs, then setting back with notable weakness on Friday.
Global financial market developments
Global stock averages fell from new cycle/ record highs.
But Big Tech continued to rebound.
US 10yr (and global) yields moved initially higher after the Fed then notably back lower, but with a lower yield bias near term.
The US Dollar Index surged from above key support.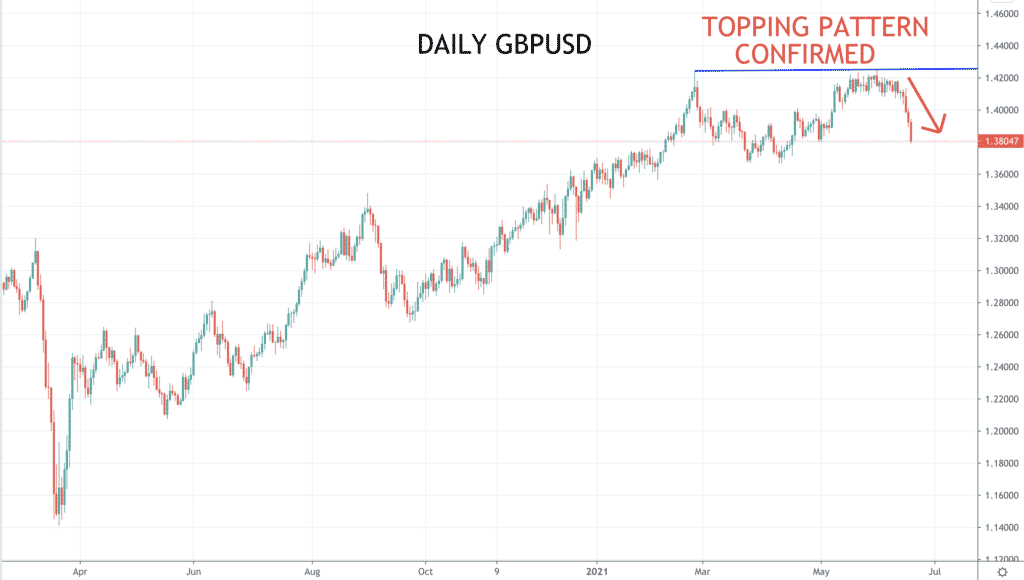 Gold plunges lower confirming the topping threat, redating to US Dollar strength .
Oil has extended even higher.
Copper topping threat confirmed, risks lower.
Key this week
Geopolitics:

Still looking for further easings of lockdown measures, particularly in Europe.

Monitoring COVID-19 cases, hospitalisations and deaths globally, alongside the spread of the Delta variant in the UK and Europe.

Central Bank Watch: We get the People's Bank of China (PBoC) interest rate decision on Monday, US Federal Reserve Chairman, Jerome Powell, testifies to Congress on Tuesday, the Bank of Japan Meeting Minutes are released on Wednesday and we see the Bank of England (BoE) interest rate decision, statement and press conference on Thursday.
Macroeconomic data: Data standouts this week are global Markit Flash Manufacturing, Services and Composite Purchasing Managers Index (PMI), the German IFO Survey and US GDP, Durable Goods Order and Personal Consumption Expenditure (PCE).
| | |
| --- | --- |
| Date | Key Macroeconomic Events |
| 21/06/21 | PBoC interest rate decision |
| 22/06/21 | EU Consumer Confidence; FOMC Chairman Powell testifies to Congress |
| 23/06/21 | BoJ Meeting Minutes; Markit Flash Manufacturing, Services and Composite PMI |
| 24/06/21 | German IFO Survey; BoE Meeting, statement and press conference; US GDP and Durable Goods Orders |
| 25/06/21 | Japan CPI; US PCE |