Non-Farm Payrolls in October exceeded expectations
The only concern is manufacturing which continues to struggle
The Fed seems justified in pausing on rates for now
The declines durable goods orders and a build of excess capacity will need watching
Non-Farm Payrolls in the U.S. is arguably the most important economic statistic in the world. It possesses the ability to move the U.S. Treasury and Wall Street equity markets and so, it follows, move all other markets in a way that no other metric can.
Indeed, I would go as far as to say the October data when released on the first Friday of November can do more than any other data point to determine how markets will trade into the year end.
The reading for October 2019 rose by 128,000, following an upwardly revised 180,000 increase in September (from 136,000). This was far in excess of market expectations of just 89,000. The sectors that saw most gains in employment were food services, beverage outlets, social assistance, and financial services.
The one notable flat spot was found in manufacturing where employment in the motor vehicles and parts sector declined by 42,000. This was the most in a decade due to strike activity at GM plants in Michigan and Kentucky. Striking employees are treated as unemployed in the US statistics. Overall the data suggests that some 60,000 jobs were affected in one way or another by the GM strike.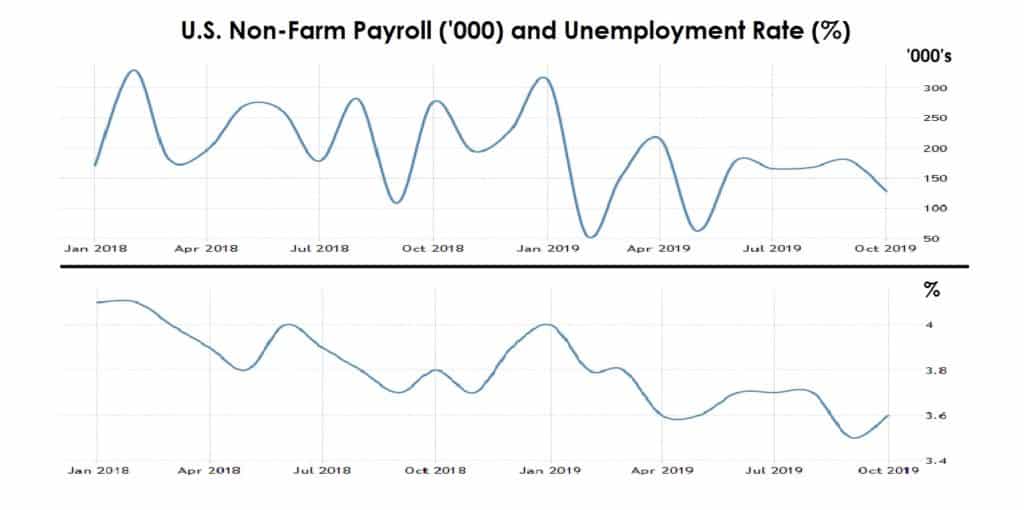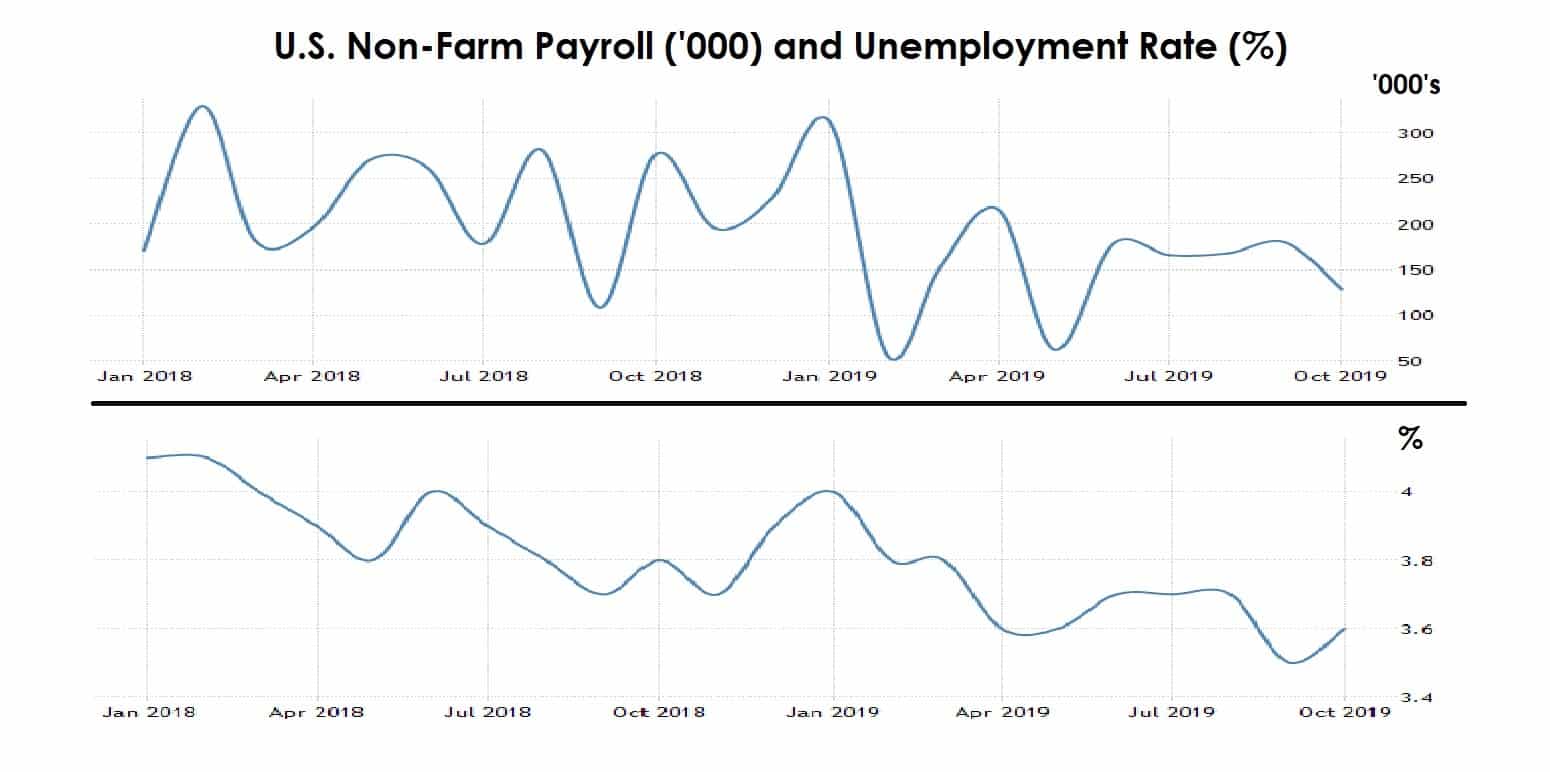 Figure 1: U.S. Non-Farm Payroll ('000) and Unemployment Rate (%)
Source: Bureau of Labor Statistics
Job growth so far this year has averaged just 167,000 a month, down from an average of 223,000 in 2018, according to official figures from the Bureau of Labor Statistics (BLS).
President Trump should be mildly pleased that the payrolls exceed expectation as it adds to the fact that since the President's 2016 election, the economy has added over 6.7 million jobs. The White website said:
"…States across the country continue setting record-low unemployment rates, showing how Federal policies that support economic growth benefit local communities. …"
The president took to Twitter to say:
"… Wow, a blowout JOBS number just out, adjusted for revisions and the General Motors strike, 303,000. This is far greater than expectations. USA ROCKS!…"
No one seems quite sure about his 300,00+ figure, however, what he will be sure to point out in the election campaign next year is that many states are printing record low unemployment figures.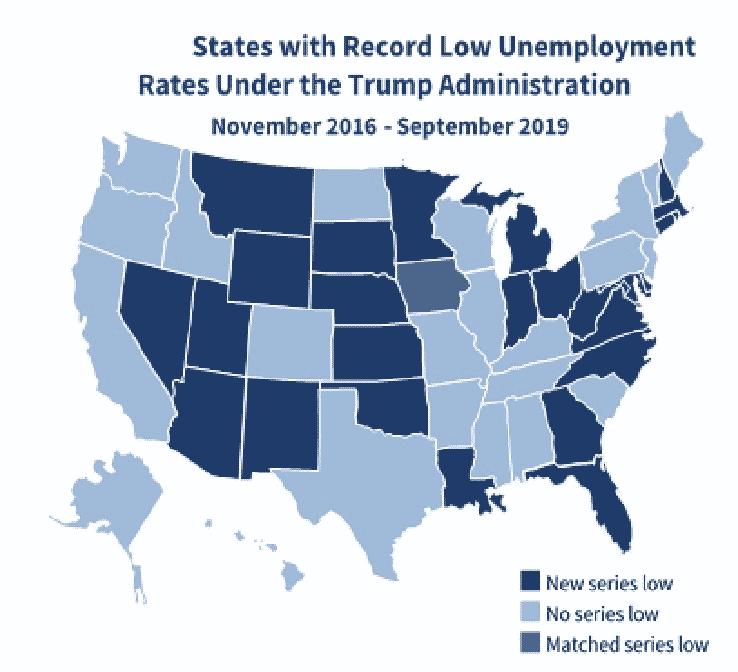 Figure 2: States and Low Unemployment
Source: https://www.whitehouse.gov/articles/historic-u-s-job-market-continues-african-american-unemployment-rate-hits-new-low/
Despite the impressive payrolls growth, the US unemployment rate increased to 3.6% in October 2019 from 3.5% in the previous month. This was in line with market expectations. Over the month, the number of unemployed persons increased by 86,000.
U.S. average hourly earnings for all employees on private Non-Farm Payrolls rose by 6 cents, or 0.2% from the prior month to $28.18 in October 2019, after being unchanged in September and slightly below market expectations of 0.3%.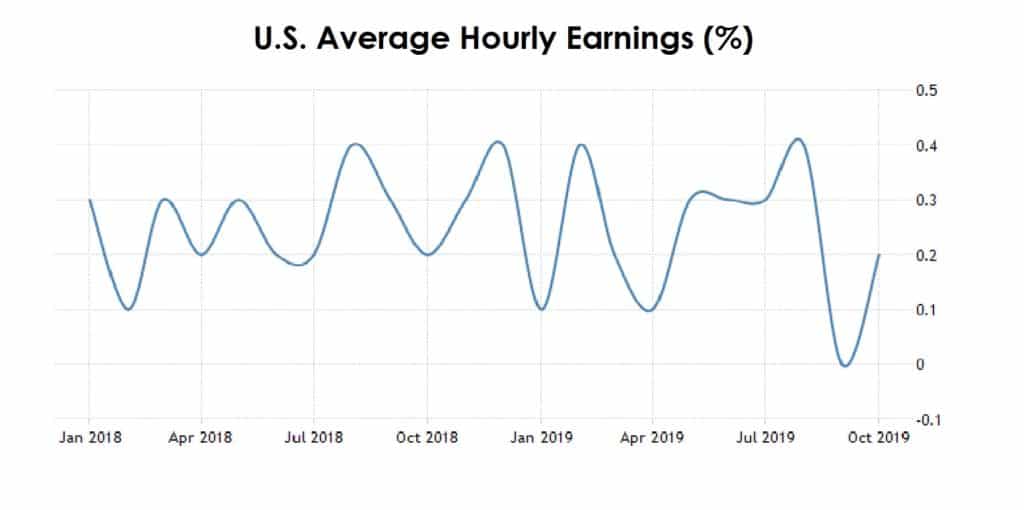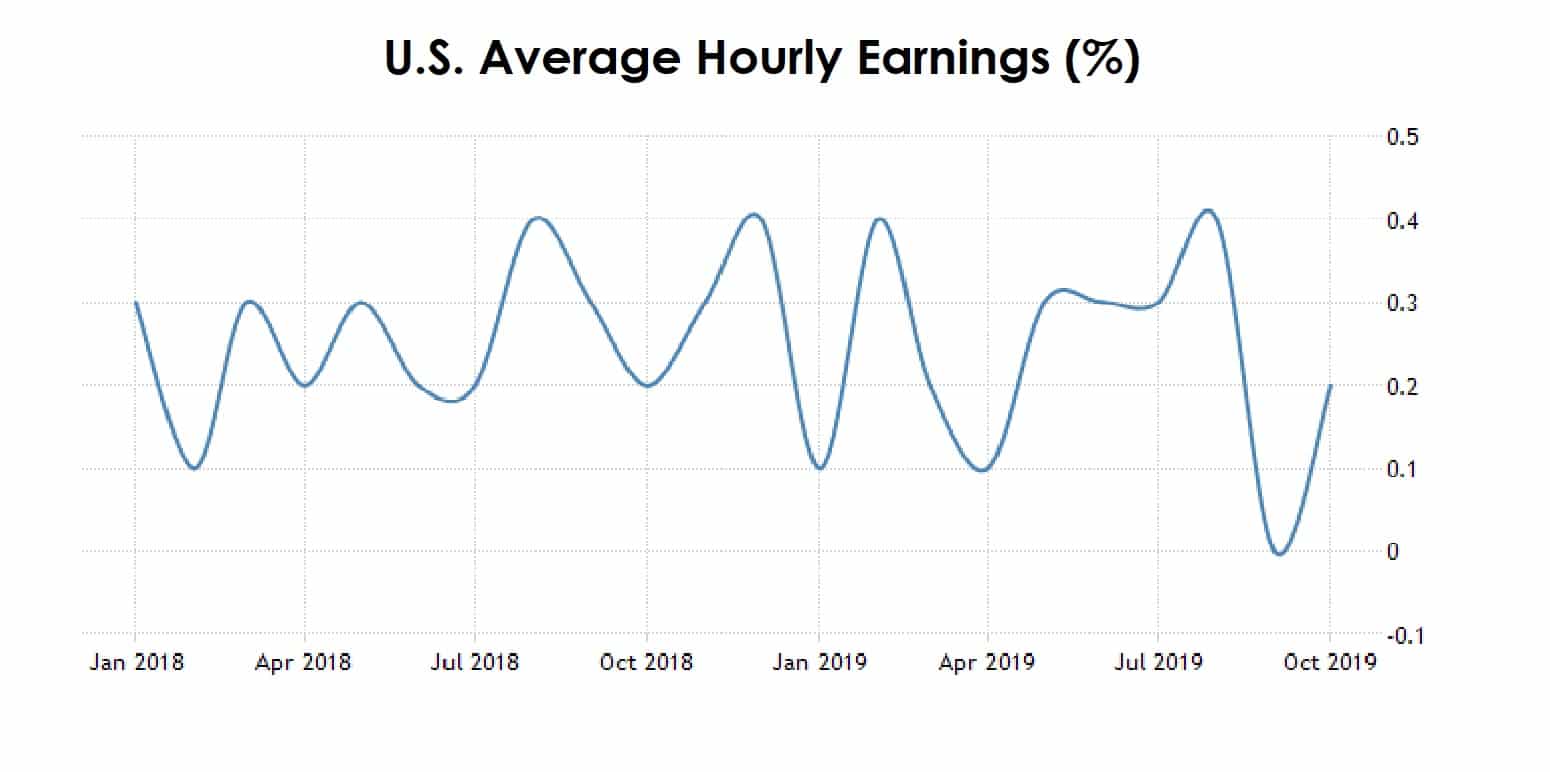 Figure 3: U.S. Average Hourly Earnings (%)
Source: Bureau of Labor Statistics
This October employment report supports Fed Chairman Jerome Powell's assessment this week that the U.S. economic outlook remains solid and the job market is strong.
The Fed slashed the target range for the federal funds rate to 1.50 -1.75% during its October meeting, the third rate cut so far this year, given the muted inflation pressures and concerns about the economic outlook. However, at the same time, it signalled a pause in easing cycle as the previous reference that it "will act as appropriate" to sustain the economic expansion was removed from the policy statement.
Over the last 15 meetings to September 2019, Fed Funds futures have priced an average around 2 bps away from the target rate, with a maximum divergence of 11 bps when moves of 50-75 bps occurred on a regular basis. The two outliers arose in January and October 2008, when the Federal Reserve made emergency cuts totalling 125 and 100 bps for those months.
In the short-term, some of the exogenous risks the Fed had worried about have moved to a relative state of calmness as the trade standoff with China is not as aggressive as at the start of the year. However, endogenous factor are proving to be a concern.
New orders for U.S. manufactured durable goods fell 1.1% from a month earlier in September 2019, following an upwardly revised 0.3% gain in the previous month, c.f. market expectations of -0.8%. Transportation equipment led the decline after three consecutive monthly increases.
U.S. retail sales fell 0.3% from a month earlier in September 2019, after an upwardly revised 0.6% gain in August and missing market expectations of a 0.3% increase. This marked the first decline in retail activity since February, mainly due to lower sales at motor vehicles, building materials, hobbies and online purchases.
With the level of capacity utilisation in the U.S. declining to 77.50% in September from 77.90% in August the use of existing productive potential is well down from the average of 80.23% from 1967 until 2019. Given the amount of free headroom business has it is not a surprise to see a pullback on fixed investment.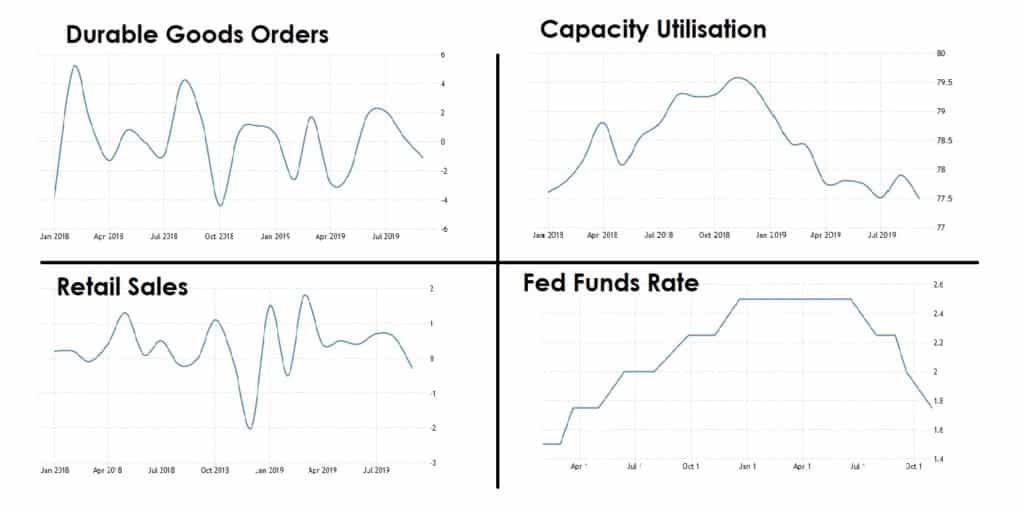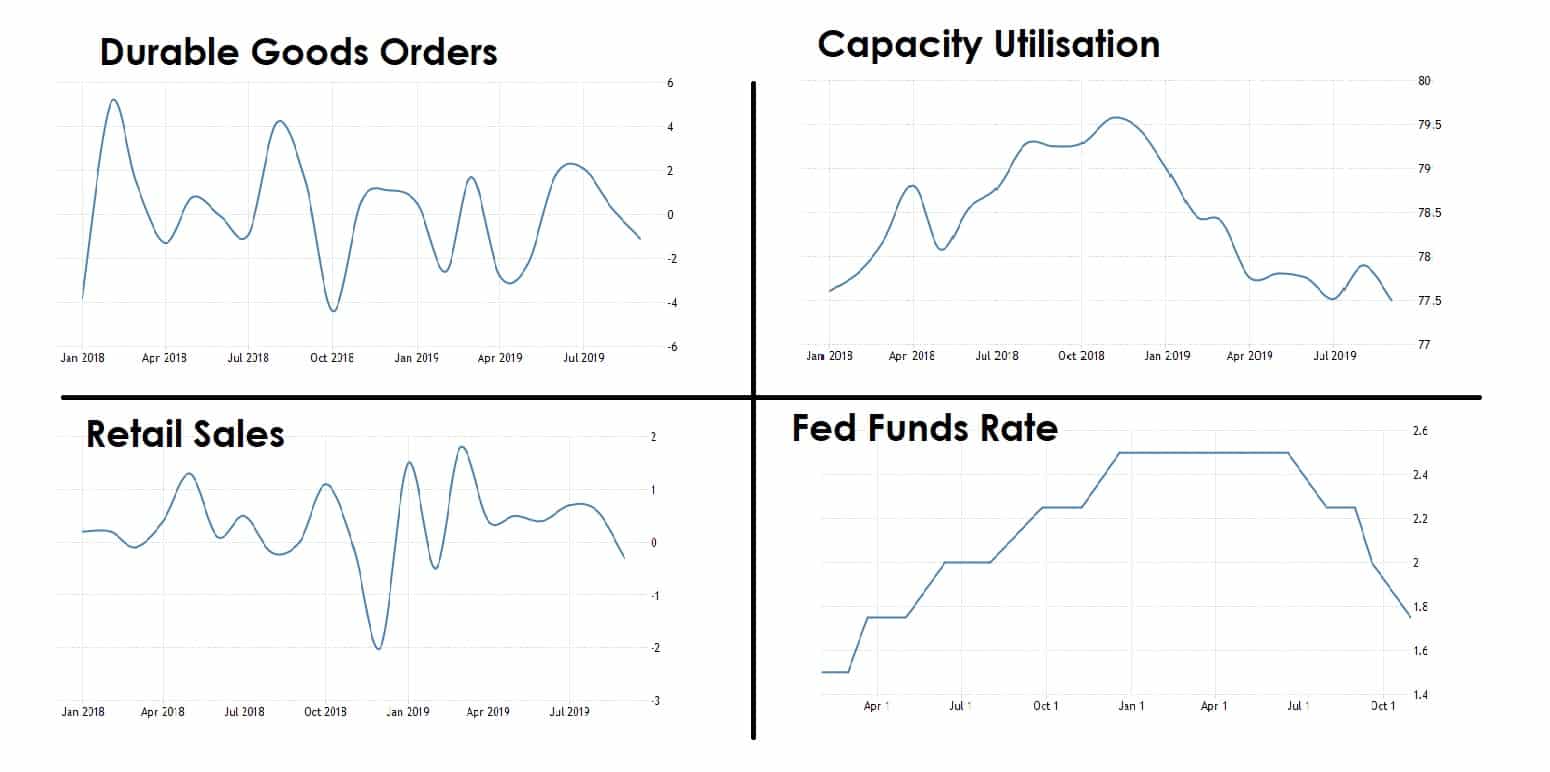 Figure 4: U.S. Durable Goods Orders, Retail Sales, Capacity Utilisation and Federal Funds
Source: Census Bureau, Federal reserve
However, the real takeaway is that the American employment market is holding up well. Consumer spending increased to $13.344 Trillion in the third quarter of 2019 from $13.250 Trillion in Q2 as personal income increased 0.3% in September 2019.
Therefore, even though the government estimated that the economy grew in the July-October quarter at a modest annual rate of 1.9% the equity markets, Dow + 301.13 +1.11%, S&P500 +29.35 +0.97% and NASDAQ + 94.04 +1.13% did not appear too fearful given the U.S. economy has been expanding for more than a decade, the longest period of growth on record.
It seems the markets are content as long as there is no signals to suggest the consumer is losing any momentum. So, the Fed can be relaxed about being on hold for a while as the markets like the data and the T2/T10 spread has settled at +16bps from reading -1 bps on August 30.