Commodities in the grain complex have moved higher
China was ending penalties against imports of U.S. grains
After the 30-minute measure, technicals all look highly positive
Corn looks set to make steady gains, extending the recent run higher
There was a new swagger in the step of grain futures at the end of the past week. Prices were generally higher getting a lift from news that China was ending penalties against imports of U.S. sorghum imposed earlier this year when the trade tangle began to become heated.
Sorghum is a small market; one variety is grown for grain, while many others are used as fodder plants. However, the move gave hope sales of other commodities will improve, though it was unclear whether actual progress was being made in the trade talks.
Corn catches the eye
Corn prices are higher, gaining traction overnight from the news about sorghum. While China hasn't imported much U.S. corn in recent years following a crackdown on genetically modified organism (GMO's), its stocks are expected to fall this year on lower production and a rapidly expanding ethanol industry.
U.S. export hopes already appeared to be getting a lift from dry conditions threatening Brazil's big second crop corn planted behind soybeans. For that reason, the technical aspect of the corn market is extremely bullish from the 30 minute measure right out to one month.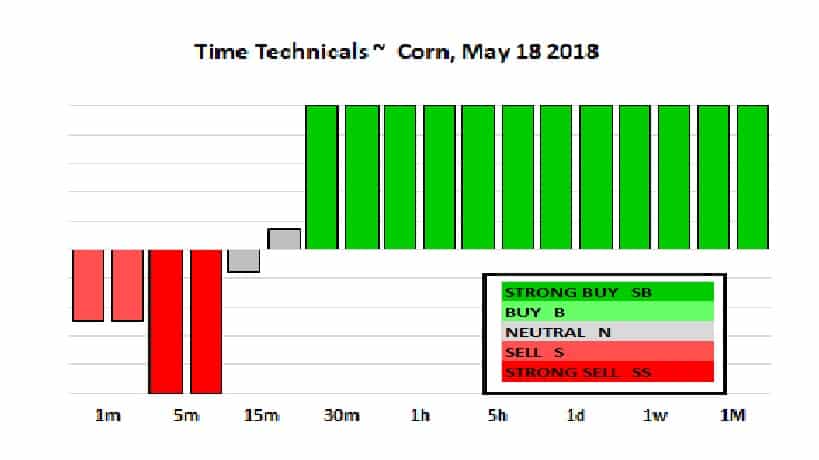 Source: www.investing.com, Spotlight Ideas
Export sales last week totalled 43.9 million bushels, most of it old crop, beating estimates and keeping commitments ahead of the normal pace indicated by USDA forecast.
Corn prices for this fall's harvest continue to trade for U.S. Cents 401/Bushel, near a two-year high. Prices are being supported by drought and crop shortfalls in China, Brazil and Argentina. Whilst the U.S. is the leading corn producers, these countries are the next largest and together account for almost a third of global supply.
One cannot overlook the fact that the U.S. still holds a near-record large stockpile of corn after five years of strong harvests. The flip side to that was that U.S. farmers likely planted fewer corn acres for 2018, which, when coupled with rising foreign demand, could lower U.S. stockpiles to the lowest level in five years by next summer.
Source: www.investing.com, Spotlight Ideas
We see the current price chart for corn showing prices advancing in a strong impulsive channel that was formed in November 2017. Prices look set to test 409 and throughout the summer make an assault on U.S. Cents 428/Bushel.
Read more fundamental and Macroeconomic analyses