Recap: Middle East Tensions Rise as Trade War Pressures Ease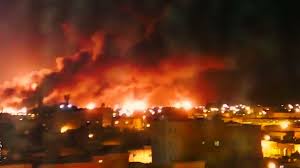 Saturday saw attacks on two oil plants in Saudi Arabia, which could interrupt more than half of the Kingdom's oil production. This supply cut is expected to send oil prices surging higher Monday. Although the attacks appeared to originate from the Yemen, the US has blamed Iraq, increasing Middle East tensions.
The shift to a "risk on" view has extended into mid-September as trade pressures between the US and China have further eased. The US declared a two-week delay in imposing upcoming tariffs, whilst China announced the tariff exemption of farm products (such as soybeans and pork) to 16 types of products already exempt. An interim Chinese trade deal has also been floated.
These trade war developments have reinforced the positive tone for the global economy, pushing global equities higher, whilst bonds sold off, alongside the safe haven currency, Japanese Yen.
The most awaited event last week was Thursday's European Central Bank (ECB) Meeting. The ECB cut the deposit rate from -0.4% to -0.5%, as expected. They also introduced a tiering system where negative rates would NOT apply to a significant proportion of deposits held by banks at the ECB. This could mean that liquidity may actually be drained from the banking system.
The ECB also launched another round of Quantitative Easing (QE), which is effectively purchasing government bonds to quicken the transfer of lower interest rates to the economy. This decision was not unanimous and no end date to the QE was announced. The overall result was for Bond markets to move to higher (NOT lower) yields, with the Euro actually strengthening. Stock markets liked the easier monetary policy with European indices posting new recovery highs for September.
The UK Brexit saga rolls on with the law to avoid a no deal Brexit at the end of October passing, followed by the proroguing of Parliament last Tuesday. Then a ruling in the Scottish Courts that the proroguing of Parliament was unlawful, which will move to the UK Supreme Court this week. Additionally, reports of progress on the Irish backstop saw the Pound rally into the end of the week.
Key this week
| | |
| --- | --- |
| Date | Key Macroeconomic Events |
| 16/09/19 | Chinese Retail Sales & Industrial Production (IP) |
| 17/09/19 | RBA Meeting Minutes, German ZEW, US IP |
| 18/09/19 | UK CPI, Eurozone CPI, Canadian CPI, Federal Reserve Meeting |
| 19/09/19 | Australian Employment, BoJ Meeting, UK Retail Sales, BoE Meeting |
| 20/09/19 | German PPI, Fed's Rosengren speaks |