The Greek economy has made minor improvements
It will not really exit the bailout programme in August
A weak government will dither over further reform
It will, eventually seek yet another credit line
Greece should be shunned in the capital markets
Since the Greek economy was laid bare in 2010 successive administrations have preceded over an economy that has existed on life support. It has relied on handouts from the European Union (EU), European Central Bank (ECB) and the International Monetary Fund (IMF), otherwise known as the "Troika".
A brief financial summary
There have been three bailouts totalling €305 Billion
First Economic Adjustment Programme (May 2010 – June 2011) [10-Year Yield 34.16%]
A three-year €110 Billion loan was agreed by the EU, ECB and IMF (Troika), paying 5.5% interest.
Second Economic Adjustment Programme (July 2011 – open) [10-Year Yield 37.10%]
On July 21, 2011 Euro area leaders agreed to extend Greek loan repayment periods from 7 years to a minimum of 15 years and to cut interest rates to 3.5%. They also approved an additional €109 Billion support package, with exact content to be finalized at a later summit.
On October 27, 2011, Eurozone leaders and the IMF settled an agreement with banks whereby they accepted a 50% write-off of Greek debt.
Third Economic Adjustment Programme (July 2015 – August 2018) [10-Year Yield 13.60%]
A memorandum of understanding on financial assistance to the Greek Republic to cope with the Greek government-debt crisis was signed on July 12, 2015 by the one-time arch opponent of austerity, Prime Minister Alexis Tsipras. It was scheduled to expire on August 20, 2018.
This gave Greece a loan of up to € 86 Billion, planned to be handed to Greece gradually from 2015 until June 2018. This assistance came after Greece became the first developed nation to miss making an IMF loan payment on schedule when it defaulted on a $1.7 Billion IMF payment on June 29, 2015.
On top of the third adjustment programme the Greek government had requested a two-year bailout from lenders for roughly $30 Billion. It did not receive it.
In response the missed payment the IMF reported on July 2, 2015 that it was clear Greek debt architecture was completely unsustainable and that further debt reduction would be required if the package of reforms under consideration were weakened further. In the lack of a further debt write-off the IMF withdrew from the "Troika "for future funding facilities.
The current state of delusion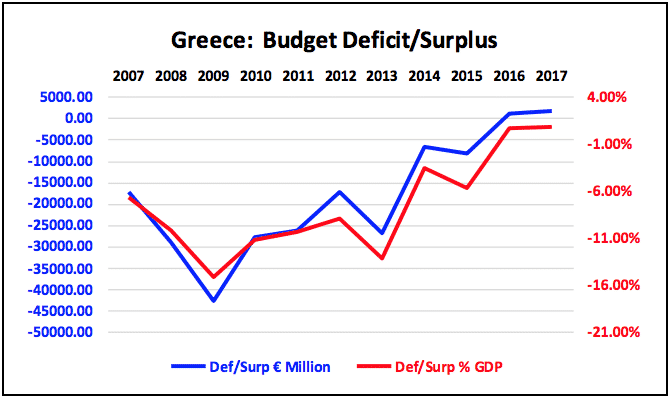 Much has been made of the fact that Greece has made progress is trimming its deficit, Figure 1.
Figure 1: Greek Budget Position Source: countyryeconomy.com
In fact, many analysts have been singing the praises for Greece as it has achieved a "Primary Surplus".
What does that really mean? A "Primary Surplus" implies that the governments receipts from tax revenues or privatisation proceeds exceed programme spending, i.e. state spending… if one chooses to overlook interest on outstanding debt.
In short, this means that Greece has income that exceeded its expenditure but an overall deficit meaning that government revenue is less than expenditure plus debt interest and redemptions.
The 2017 budget officially registered a record primary surplus of 4.2% of GDP, against a target for 1.75%. However, one must note that this was achieved by damaging economic growth i.e. just 1.4% against a target for 2.7%.
In securing primary surpluses that were double the target the government has deprived the economy of precious resources, hence the stagnation of growth compared to original projections. This is evidenced by the fact that consumption edged up just 0.1% in 2017. This has been attributed taxpayers' exhaustion due to over taxation.
The Syriza led government was quick to express its satisfaction upon the release of the fiscal results by the Hellenic Statistical Authority and yet one is bemused by the irony. Just two years ago the  Prime Minister, Alexis Tsipras accused the previous administration of setting excessive targets for the primary surpluses of 2016, 2017 and 2018 at 4.5% of GDP.
Eventually he reached that target, only after creating division within the coalition government. This was done at a time when the EU and ECB had lowered the primary surplus targets to 1.75% for 2017 and 3.5% this year.
What about debt repayment?
To meet its debt repayments Greece could have made further cuts to spending or sped up privatisation or it could have even declared bankruptcy. However, as we have seen time and time again it is not the European way.
Therefore, the EU and ECB kicked the interest and loan repayments out by 10-years. They cannot afford to have Greece slide into bankruptcy. To do so now would make a mockery of the past eight-years efforts.
If no action were taken Greek net debt interest payments would amount to:
6.2% of GDP
15.0% of tax revenue
By any sensible accounting or economic measure Greece is as bankrupt now as it was in 2010. That cannot be admitted in Europe or the Eurozone as to do so would suggest the Euro project was flawed…maybe fatally so.
Denying reality
On Friday, June 22nd, 2018 Eurozone Finance Ministers extended the maturity and deferred interest of a major part of their loans worth €96 Billion to Greece. In addition, they saw fit to provide a significant cash injection to ensure Athens could stand on its own when it supposedly exits its bailout in August.
Herein lies the problem. The only way Greece could have a chance of standing unaided was by giving it more aid. Is it just we at Spotlight or does that sound ridiculous?
The market's reaction was to bid up the price of Greek equities and bonds. On the week the Athens General Stock Index rallied by 1.01% from 763.45 to 771.18 and Greek 10-Year yield declined from 4.49% to 4.15%.
We accept that most Greek government debt is largely owned by official creditors and not private investors. As such trading is far from smooth or continuous, however, private sector interest must have been expressed and driven asset values higher.  Seriously, one wonders why there is such bullish sentiment when the underlying conditions are so poor?
Let's be honest. Greece was in no position to pay its creditors in 2022 so the institutional lenders, i.e. the EU and ECB kicked the debt (interest and principal) down the road for 10-years. Does that mean government debt that is due in 2022/23 is now suddenly a great investment as any money Greece was due to hand over the EU and ECB can be used to pay off the 3.5% January 30, 2023?
Repay…no, new debt will be raised, as once out of the bailout Greece will have access to the private capital markets. This new debt will in effect be used to pay back the 3.5% 2023 in a curious hybrid of revolving credit. All the while, debt to GDP will be stuck above 170% (current 179%).
Despite the existence of shorter maturities that is the first external debt instrument that could cause Greece problems as the shorter maturities are all Treasury Bills that will be simply covered in regular bill auctions.
When we reach August 2018, Greece will say it is ready to leave the bailout programme as it wants to be  free to set its own economic agenda, but the country is riven with disagreement as to how best to deliver economic growth and make sure Athens implements reforms.
Europe really does not trust the Greeks
The current "Coalition of the Radical Left" is fragile, and although the next legislative election will be held no later than October 20, 2019, (though it may be held earlier if a snap election is called) the parties of government, led by Syriza trailed the leading opposition group, New Democracy by an average of 14.5% through last month. The question must be asked as to with whom New Democracy could forge a deal to form a new government?
Given the weak state of the Greek economy (Figure 2), pushing through a fast track reform agenda looks to be desperately needed and yet is unlikely to emerge.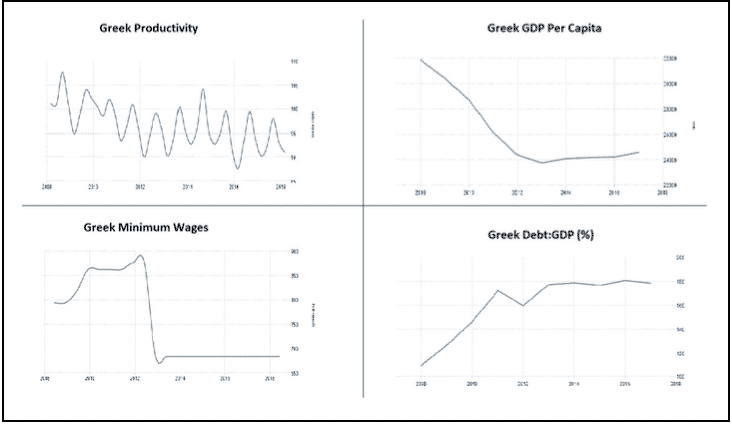 Figure 2: Four snapshots of the Greek economy…not looking very good   Source: Eurostat, World Bank, National Statistical Service of Greece
It is no wonder that other Eurozone nations are wary of allowing Greece to enjoy economic  self-determination. For that reason, they have indicated that Greece should take a precautionary line of credit. This is being proposed so that other nations and the institutions can maintain a say in how the Greek economy is run and deliver they reforms that have so often been slow in materialising.
There have been persistent differences of opinion in recent months among Eurozone members and the IMF over how much leeway to give and how much supervision should continue. There has been no discussion of a reduction of the nominal value of the debt, but Greece might get back the profits made by the ECB on its portfolio of Greek bonds and see maturities and grace periods on Eurozone loans extended.
That is in effect another bailout as the act of buying Greek debt by the ECB has driven their prices up and yields down. That means the whole yield curve has fallen. Yes, even the front end, where Greece has been an active issuer of Treasury Bills has seen a benefit.
12-Month Change:  1-Month -90bps   3-Month -122bps and 6-Months -100bps
Greek debt along the curve has enjoyed most of its price appreciation because of ECB acquisitions, (Figure 3), handing the profits to Greece would imply they could have contributed to repaying existing bailout funds.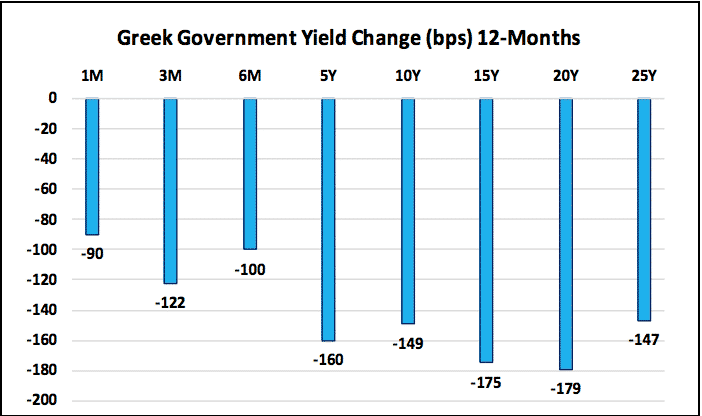 Figure 3: Declines in yields along the Greek yield curve over the past year Source: Investing.com, Public Debt Management Agency
French Finance Minister, Bruno Le Maire has said that the framework on debt relief must be
"…clear, comprehensive and credible …I am confident that we will be able to find an agreement on that in the coming weeks, …"
The decision to move debt out by 10-years from 2022 to 2032 was based on Athens confirming it will implement the final 88 changes to its economy agreed with its creditors. What is sadly true, many of them, such as the liberalisation of the energy market, or privatisation, are proving difficult.
We find it no surprise that in June the Greek Finance Minister Euclid Tsakalotos said Athens does not wish to request a precautionary credit line after its bailout programme expires. He knows that managing the economy is tremendously difficult and Athens could do without enhanced surveillance by its lenders in the post-bailout period.
That said, just as the Leopard cannot change its spots, Greece is incapable of reforming at pace or manage its finances properly. It should have left the Eurozone in 2011.
We have no doubt that Greece will want more assistance, even after its EU/ECB loans have been deferred by 10-years. It will want new funds, without any oversight…the bird cannot be allowed to fly.
Of course, after eight-years and €305 Billion of loans the EU and Eurozone will not force Greece out, but by keeping the problem child in the club, this agonising saga will simply continue to roll on in its torturous style.
The sad thing is, so long as investors act as irrational agents when it comes to Greece, so the Hellenic Republic will be allowed to continue having its debt responsibilities kicked into the long grass. We argued this fact throughout 2010 to 2014 and yet still Europe has fudged the Greek issue.
Of course, by not having invested in Greek debt or equities our sister company, Spotlight Capital, has missed out, however, we try to act as a sensible behavioural economic creature aware that a loss of x% hurts twice as much as a gain of x%.
That is a valuable lesson, and we will have no part of this folly as the EU and ECB prop up a bankrupt Greek state by selling it endless indulgencies.