Today, Wednesday 29th August we get the US Gross Domestic Product (GDP) and also the Personal Consumption Expenditure Prices data. The latter of particularly significance as it is seen as a preferred measure for inflation pressures by the US Federal Reserve and FOMC.
With the S&P 500 recently making a new record high above the early 2018 peak (from January), generally markets are in a bullish, "risk on" stage.
This leaves the technical bias for further equity market gains, aiming the S&P 500 higher.
Also, this would point to a higher threat for USDJPY and likely lower US Treasury prices, which equals higher yields.
S&P 500 E-Mini
Bull threat
A new all-time high on Tuesday and then a resilient consolidation to reinforce Monday's push through the early 2018 prior record high at 2889.0 and psychological/ option barrier at 2900.0, to maintain an upside bias Thursday.
We still see an intermediate-term bull trend whilst above 2791.0.
For Today:
We see an upside bias for 2906.25 and then to 2911/12, maybe 2919.75.
But below 2883.5 targets 2870.75.
4 Hour Chart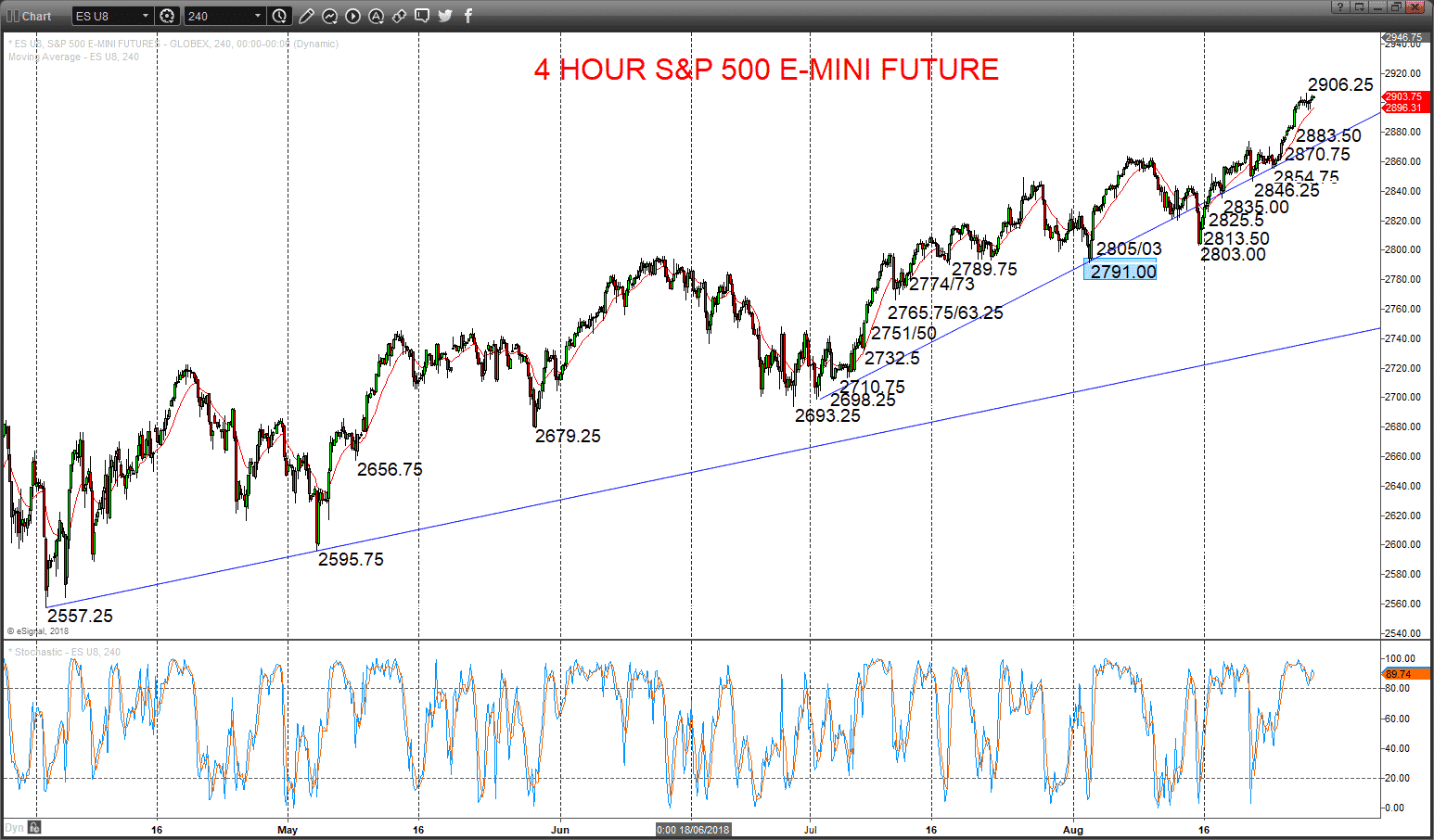 USDJPY
Still a positive tone
A consolidation tone Tuesday still holding above initial 110.71 support, to sustain a positive tone from last Friday's prod up into the 111.48/53 resistance area (to 111.49) AND from last Thursday's surge higher through the down trend line from July, to keep the bias higher into Thursday.
The mid-August surrender of 110.25 set an intermediate-term bear trend.
For Today:
We see an upside bias for 111.49/53; break here aims for 111.88, possibly towards key 112.15.
But below 110.71 opens risk down to 110.19, maybe 110.00.
4 Hour Chart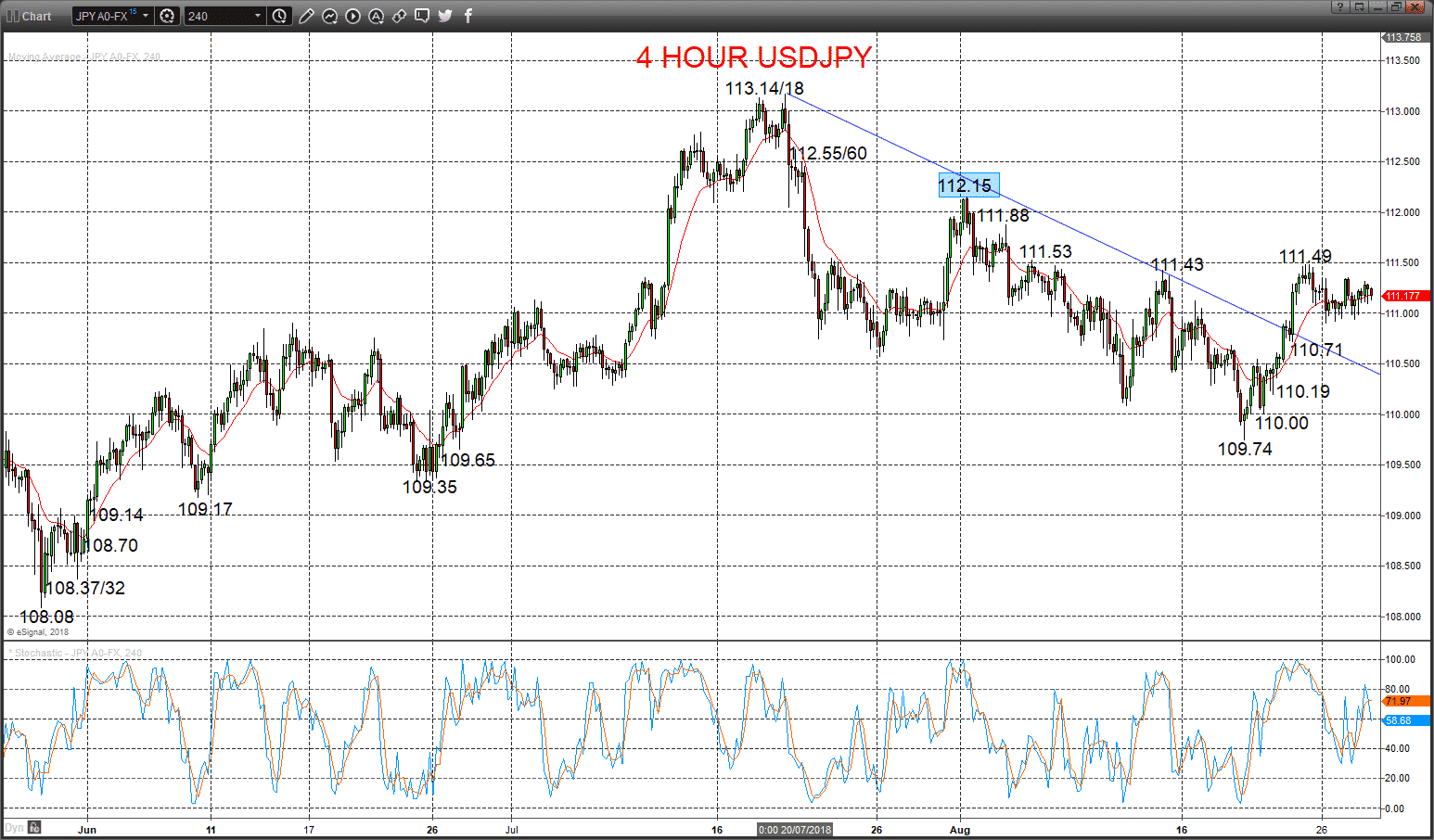 US 10yr
Downside correction bias
Another selloff Tuesday as expected through 120-09 support and to prod the 120-035 target, to reinforce Monday's erosion, the negative consolidation since the latter August setback from our 120-24 resistance AND the reversal below through the August bull trend line, to keep the bias for a correction lower Thursday.
The latter August probe above 120-20 set an intermediate-term bullish theme.
For Today:
We see a downside bias for 120-02 and 120-01; break here quickly aims for 119-30and then 119-235.
But above 120-09 aims at 120-13 and maybe opens risk up to 120-18.
4 Hour Chart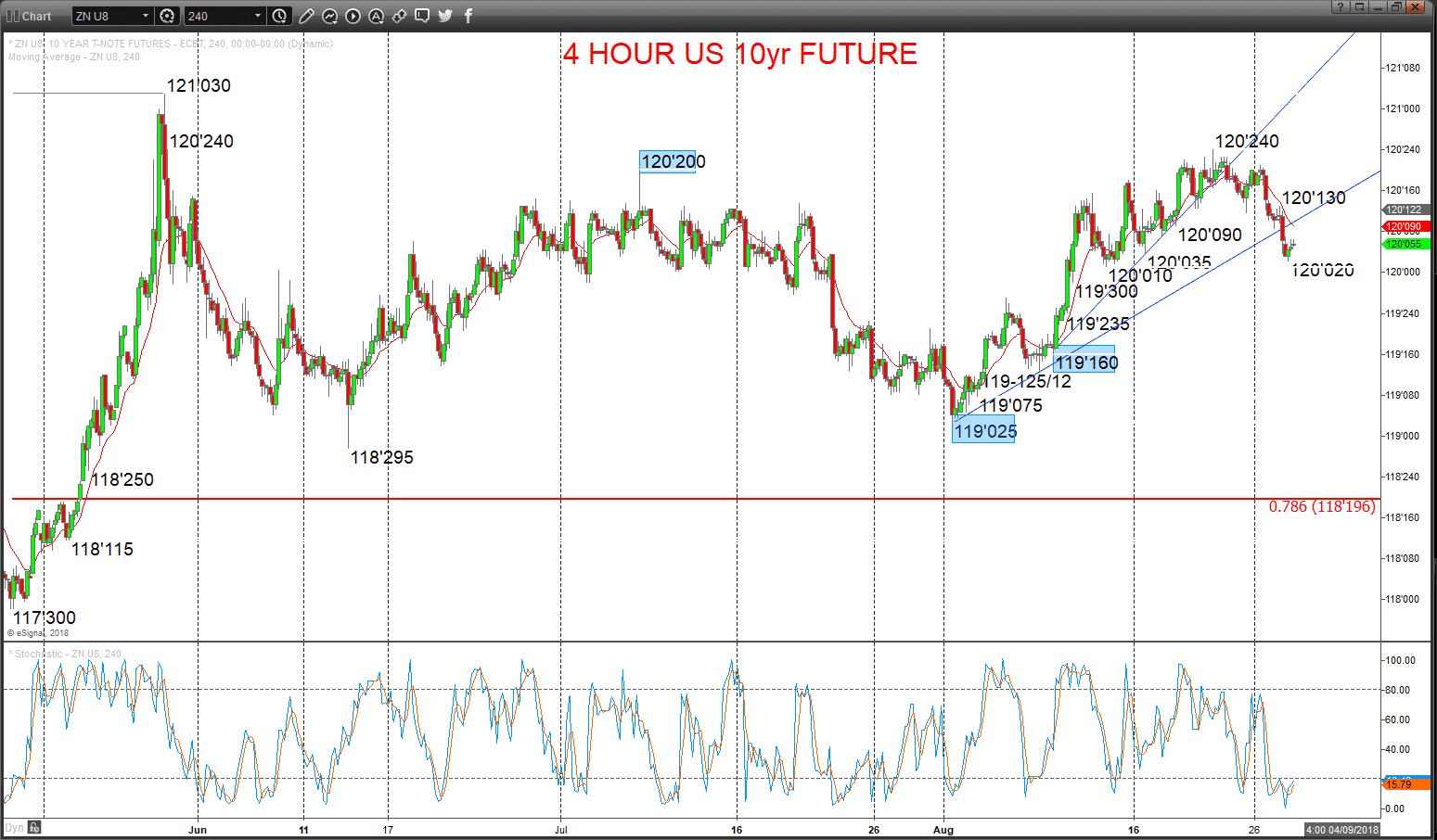 Read more forex news and market commentary