OECD growth expectations have deteriorated
Weak trade flows are a serious concern
There is a need for greater urgency on a global basis to tackle climate change
The U.S. will turn inwards in election year, so growth in China will be crucial
The Organisation for Economic Cooperation and Development (OECD) has said in a new report that prospects for global economic growth in 2020 have steadily deteriorated.
It trimmed its 2020 global economic growth forecast and said it did not see a strong rebound in 2021 given risks stemming from ongoing trade tensions.
The OECD now estimates that global activity will expand by 2.9% in 2020, a decline of 0.1% from a previous forecast issued in September. In 2021, the OECD, which groups the world's wealthiest nations, sees global economic growth edging back up to 3.0%, according to its November 2019 Economic Outlook, Figure 1.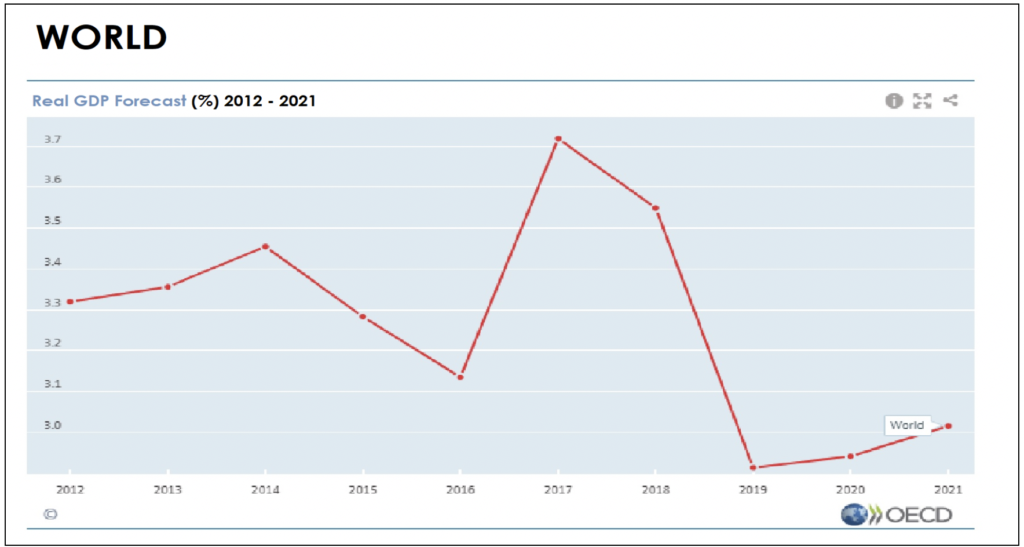 Figure 1: Real GDP Forecast (%) 2012- 2021 Source: OECD
OECD chief economist Laurence Boone noted that:
"…for the past two years, global growth outcomes and prospects have steadily deteriorated, amidst persistent policy uncertainty and weak trade and investment flows. …"
She said that while central banks had taken decisive and timely monetary decisions that partly offset negative effects of trade tensions, most governments had not matched this on a fiscal basis.
Owing to "…persistent policy uncertainty and weak trade and investment flows…" she said the OECD now saw the global economy expanding at "…the weakest rate since the global financial crisis…" of 2007.
U.S. growth is trimmed back to 2.3% from 2.4% for 2019 and "…is expected to slow to 2.0% by 2021, while growth in Japan and the Eurozone is expected to be around 0.7 and 1.2% respectively."
In China, the second biggest economy worldwide, growth was forecast to be 6.2% this year always seen as slipping to 5.5% in 2020 "…continue to edge down, to around 5.5% by 2021…" Boone said.
Other emerging-market economies are expected to recover "…only modestly…" she added.
Climate Change Challenge
The OECD said extreme weather events could lead to disruption of economic activity. This could impose long lasting damage on capital and land whilst driving disorderly migration flows.
The failure of all governments to take enough, timely action is likely to accelerate the frequency of such events. As well as seeking rising economic growth, managing climate change is shaping up to be the challenge of our time although the OECD says that there is already an impact on business investment.
"…Without a clear sense of direction on carbon prices, standards and regulation, and without the necessary public investment, businesses will put off investment decisions, with dire consequences for growth and employment…"
The OECD report argues that greater clarity on climate policy would trigger a marked acceleration of investment by business. It has called for the creation of national funds to make public investments in these areas.
Certainly, at a time when the bond rally in 2019 means $11.5 Trillion of debt, i.e. over 20% of total debt issued by governments and companies around the world trades on a negative yield there is a compelling case for additional, strategically targeted government activity.
This is exactly what new ECB President, Christine Lagarde, said in her first major statement last week in Frankfurt with regard the Eurozone. However, one would not encourage a massive expansion of the state to crowd out the private sector or the creation of state monopolies that will merely create an economic deadweight loss.
China's Chequered Change
Of the other challenges that the OECD has highlighted, one of the most significant is the change in the Chinese economy.
Of course, the trade war with the U.S. has had an impact and it suits President Trump to delay a settlement until as close to the election in November 2020 to maximise his re-election prospects.
China is becoming a more services-oriented economy which means the country's demand for imported goods for its industries to process is unlikely to grow as strongly in the future. It is also seeking technological independence and with it, greater global influence.
China's central committee will push the People's Bank to try and ensure the coming economic slowdown is gradual. It seems a long-time since the Chinese government accepted that year on year growth of 9.0% could no longer be sustained.
There is a serious possibility that China may not succeed in generating a smooth downward glidepath and as the U.S. turns inward during it Presidential election year the role of China as a major contributor to global economic performance is something the OECD identifies as a risk factor.