Today, Wednesday 26th September will see the financial markets focus firmly on the Fed and the FOMC Meeting, which is expected from market pricing to deliver another interest rate increase.
Critical to focus on will be the statement and the press conference. Is the labour market too tight, is the flattening on the US Treasury yield curve a concern, are growing trade war tensions a significant concern?? These are all questions to which the market will seek answers.
Key markets to watch into the event will be the US Treasury Notes which for now is bearish (here we focus on the US 10yr Future) and the broad, benchmark equity average, the S&P 500, which currently stays bullish (here we look at the S&P 500 E-mini future).
US 10yr (Dec' '18 contract)
Bear theme reinforced
A probe lower Tuesday to a new bear move low through 118-14/13 supports, sustaining bear forces from the mid-September plunge through key supports at 118-275 and 118-26, PLUS the prior surrender of the key 119-065 level, to keep risks lower Wednesday.
The mid-September break below 119-065 set an intermediate-term bearish trend.
For Today:
We see a downside bias 118-11, then towards 118-07, maybe 118-02.
But above 118-235 aims quickly for 118-27 and maybe targets 119-07.
Intermediate-term Outlook – Downside Risks: We see a downside risk for 118-275 and 118-26.
Lower targets would be 117-285 and maybe towards 116-015
What Changes This? Above 119-19 shifts the outlook back to neutral; above 120-055 is needed for a bull theme.
4 Hour Chart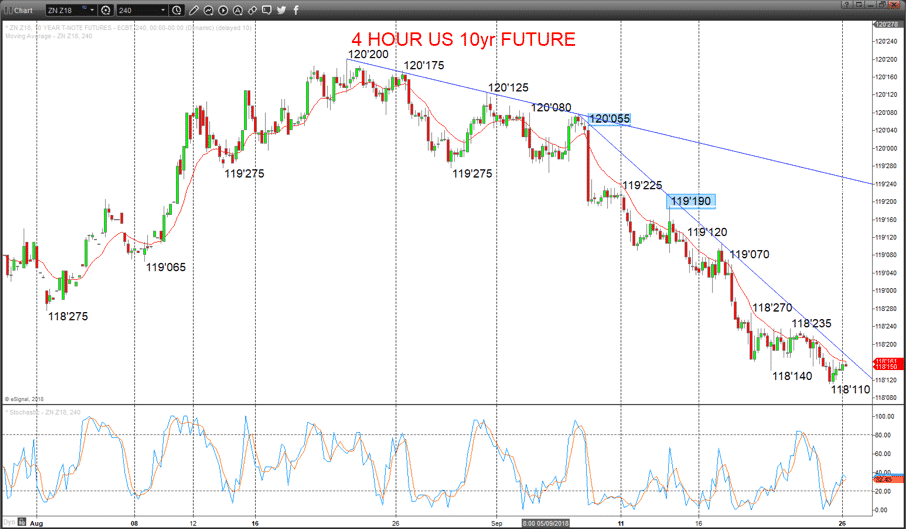 S&P 500 E-Mini (Dec' '18 contract)
Still looking for a rebound
A consolidation tone Tuesday, initially a rebound above 2930.25 resistance, then a setback but still just holding above 2917.25 support, and whilst above this level we still look for a rebound bias, sustaining upside forces from last week's dip and rebound from the bull trend line from early July, keeping risks higher Wednesday.
We still see an intermediate-term bull trend whilst above 2869.5.
For Today:
We see an upside bias for 2934.25 and maybe the new cycle high at 2947.0 and 2950.0.
But below 2917.25 aims at 2908.5, maybe 2900.0.
Intermediate-term Outlook – Upside Risks: We see an upside risk for 2950, 2981.5 and 3000.
What Changes This? Below 2791.0 shifts the intermediate-term straight to a bear theme.
4 Hour Chart