The US Dollar Has Continued to strengthen across most of the major global currencies since the FOMC rate hike decision on Wednesday (15th December). Although this rate hike was anticipated, a more hawkish stance into 2017 has allowed for further gains for the US currency.
This leaves the near term forex forecast for further US Dollar appreciation into late 2016 and likely on into Q1 2017.
Although the USD has risen against most G10 currencies since the US Presidential election result, the EURUSD plunge and surging USDJPY rally leaves risk for a still stronger US Dollar within G3 (that is the EUR, JPY, USD currency complex).
EURUSD
A modest corrective consolidation rebound Friday, but capped by 1.0501 resistance (stalling at 1.0474), to maintain bear pressures from the Wednesday-Thursday plunge lower through the critical multi-year low at 1.0459 to the lowest level since early 2003, to see risks lower Monday.
For Monday:
We see a downside bias for the new cycle low at 1.0364; break here aims for 1.0305 and maybe as low as 1.0250.
But above 1.0474 opens risk up to 1.0501, maybe 1.0562.
Furthermore, this activity simply serves to further reinforce the intermediate-term bearish theme.
Short/ Intermediate-term Outlook – Downside Risks:
We see a negative tone with the bearish threat to parity (1.0000) and maybe as deep as .9610
What Changes This? Above 1.0670 signals a neutral tone, only shifting positive above 1.0874
Daily EURUSD Chart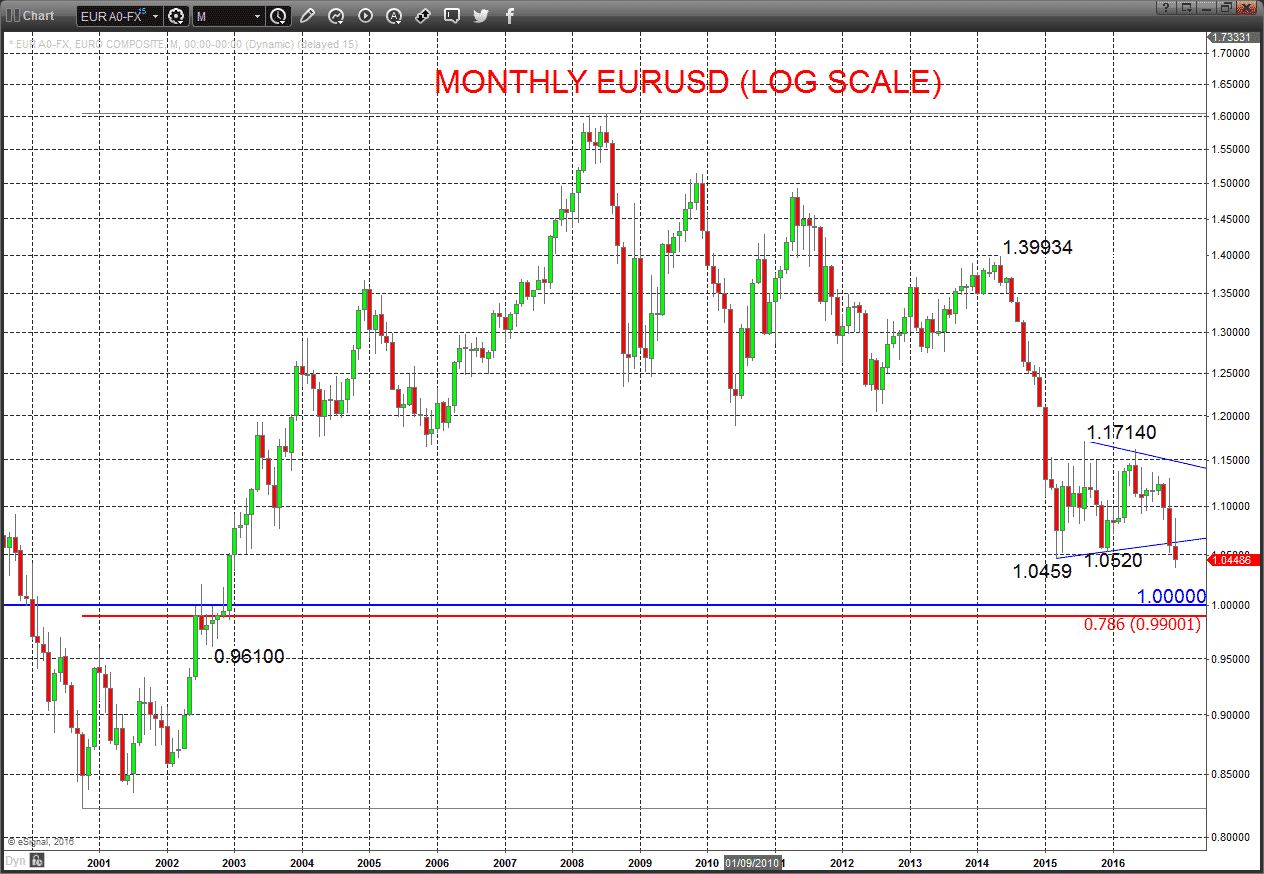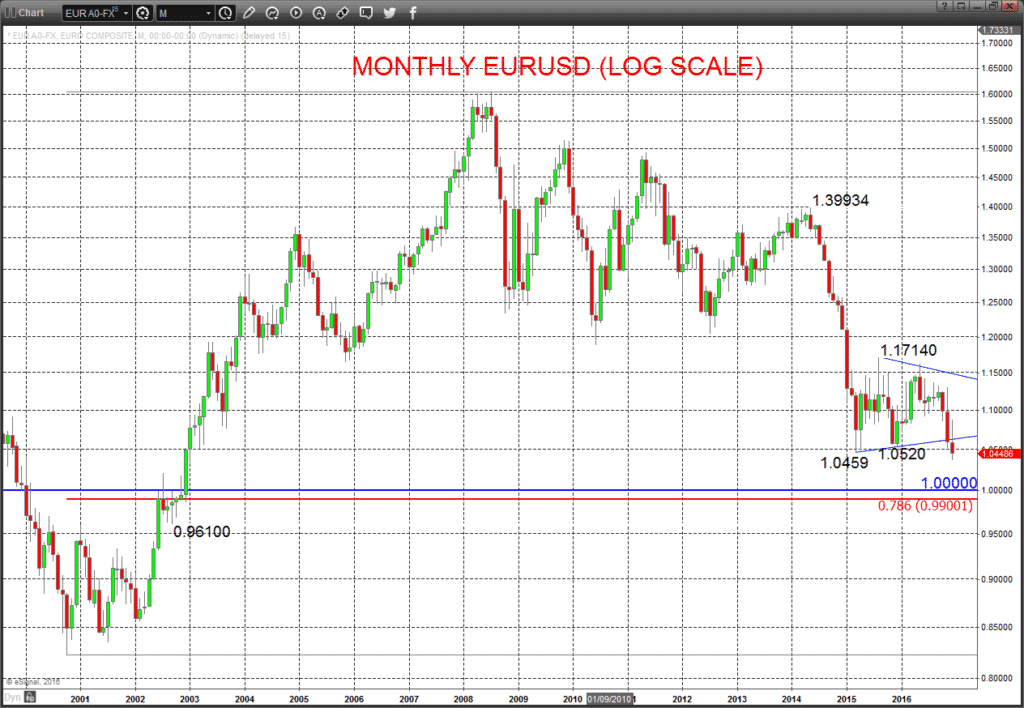 USDJPY
A consolidation on Friday, after a strong push higher from the middle of last week after the FOMC decision Wednesday, which saw a push up through notable resistance at 117.53, reinforcing the Q4 rally, leaving the threat for still further gains into Monday.
For Monday:
We see an upside bias for 118.65 and 119.00; break here sees little up to 120.00/10, psychological and retracement targets.
But below 117.46 aims quickly for 117.20 and opens risk down to 116.24.
Furthermore, we still see intermediate-term upside pressures intact from the recent push above the 50% retracement of the entire 2015-16 sell-off at 112.42.
Short/ Intermediate-term Outlook – Upside Risks:
We see a positive tone with the bullish threat to 120.00/10.
Above here targets 121.69 and maybe as high as 123.57/75 and 125.28/85!
What Changes This? Below 113.12 signals a neutral tone, only shifting negative below 111.32.
Daily USDJPY Chart